Cleveland Cavs' GM Koby Altman scouting Luka Doncic in Israel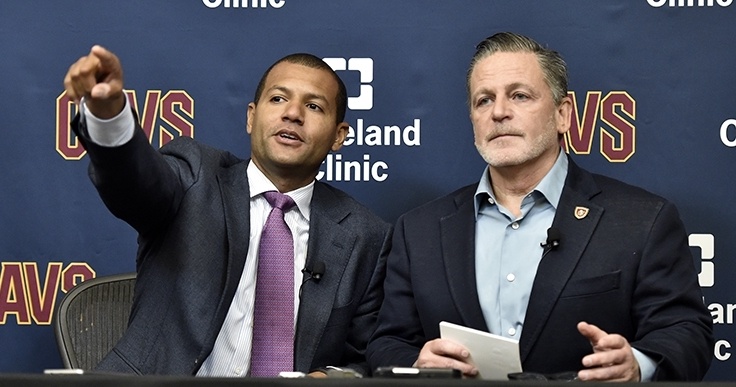 According to several reports, Cleveland Cavaliers general manager Koby Altman was seen scouting 18-year-old Real Madrid shooting guard Luka Doncic during a Euroleague game on Thursday.
Cavs GM Koby Altman is in Israel scouting and taking notes on Real Madrid's Luka Doncic. Cleveland own Brooklyn's pick, currently projected at #6.

— David Pick (@IAmDPick) November 9, 2017
Doncic, a 6-7 Slovenian-born prospect who's currently averaging 21.6 points per game, has been on the radar of nearly every team in the NBA for quite some time. He is young, it's true. In fact, at 16 years, two months, and two days of age, he became the youngest player in franchise history to suit up for Real Madrid. However, he is also very talented, which would explain the Cavs' interest.
As most hoops fans know, the Cavs took part in one of the bigger deals of the 2017 offseason, sending Kyrie Irving to the Boston Celtics for Isaiah Thomas, Jae Crowder, Ante Zizic, and a pair of future picks. One of the picks that Cleveland acquired in the deal is a first-rounder in next year's Draft, which is exactly what most experts are projecting Doncic to be — a first round pick.
As of today, the pick that Cleveland received in their deal with the Celtics, which originally belonged to the Brooklyn Nets, is projected to be somewhere in the top-10. Where the Nets, currently fifth in the Atlantic Division with a 4-6 record, finish this season will determine the pick's placement. If Brooklyn plays well, the selection could fall out of the top-ten. If they lay a proverbial egg, the pick will be higher.
This is one of the first instances we've heard of the Cavs scouting players this season. It's hard to say whether or not Altman and the Cavs would indeed pull the trigger on selecting Doncic, but they obviously like what they see in his game.