Cleveland Cavs fan makes sign thanking LeBron James for 4 straight Finals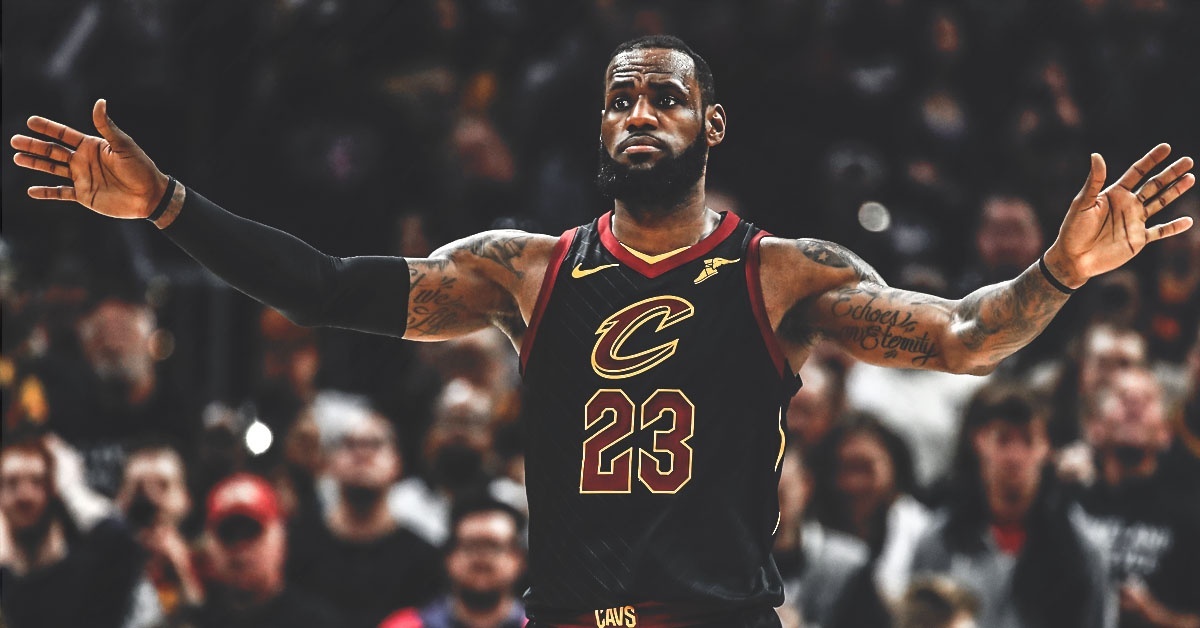 Prior to Friday night's Game 4 matchup between the Cleveland Cavaliers and Golden State Warriors, one loyal fan decided to show his appreciation for LeBron James' run to the Finals over the last four seasons. As most hoops fans know, James and the Cavs have made four consecutive Finals appearances — a feat this fan wanted to recognize.
"Thank you LBJ," the sign reads in a creative font. "4 straight Finals."
Man. pic.twitter.com/eA0oK5zqqr

— Hardwood Paroxysm (@HPbasketball) June 8, 2018
James, now 33 years of age and in his 15th season of NBA service, has been remarkable for the Cavs since rejoining the team in 2014. He's broken record after record, and is showing now signs of regression. In fact, James played all 82 games during the 2017-18 regular season, which was a career first. He also suited up for all 22 of Cleveland's games in the postseason, leaving him with a grand total of 104 games played.
In this four-year span of time, Cavs fans have endured moments of frustration, sure. However, they've also shared moments of pure elation. In 2016, James led the Cavs to their first championship in franchise history, defeating the Warriors in epic, come-from-behind fashion (down 3-1).
A mass of humanity lined the streets of downtown Cleveland to meet James and the Cavs during their championship parade. Were you there?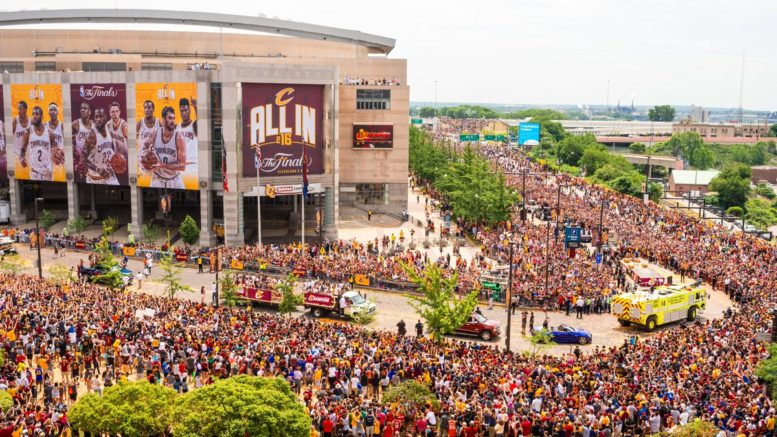 James' impact goes far beyond the hardwood floor, though. To be frank, he's brought heaps (and heaps) of income to the city of Cleveland and its surrounding neighborhoods. Hotels fill, bars pack… mostly because of this man.
The LeBron effect is real. In 2017, it was determined that James's presence increased the number of restaurants and bars within one mile of his team's arena by 13 percent, according to vox.com. Furthermore, employment rate at those establishments increased by 23.5 percent.
With this season in the books, James is faced with a decision, just as he was in the past. The King has a $35.6 million player's option on his contract for next season, and he could opt in before June 30th. However, it's more likely his decision will come sometime after the 2018 NBA Draft (June 21st).
"Do you feel like you've played your last game for the Cavs?" Joe Vardon of cleveland.com asked James after Game 4 of the NBA Finals.

"I have no idea at this point," James, who was wearing a brace on his right hand, replied. "The one thing that I've always done is consider my family, understanding especially where my boys are at this point in their age. They were a lot younger the last time I made a decision like this, four years ago.

"I've got a teenage boy, a preteen, and a little girl that wasn't around (back then) as well," James continued. "So sitting down and considering everything… But my family is a huge part of whatever I decide to do in my career, and they will continue to be that.

"I don't have an answer for you," James said in closing.
For now, it seems we'll have to wait for a decision. Until then, we at Cavs Nation would like to join this fan in thanking LeBron James for not only the past four seasons, but all of his time and effort spent in Northeast Ohio.