As the Cleveland Cavaliers return home to play Game 5 against the Indiana Pacers, a few things have been evident so far in the playoffs. LeBron James continues to play at an All-NBA level, and as long as he is on the court, the Cavs have a good chance at winning. But aside from James, there are a few issues that are plaguing the team, and they could end up hurting Cleveland later on in the postseason.
The Cavs traded away guards Dwyane Wade and Derrick Rose at the trade deadline in February, and at first, it appeared as if Cleveland had made a big improvement. But if Wade and Rose were still on the Cavs, the team would be in a much better position.
James admits this without saying it directly:
LeBron admits to a major issue for the Cavs pic.twitter.com/i2hWFAFvTg

— Nikki Goel (@NikkiGoelCavs) April 25, 2018
It's almost as if the Cavs have entered the twilight zone since the playoffs began. Throughout the regular season, the Cavs' strength was shooting three-pointers, and their weakness was defense. After all, they ranked 29th in the league in defensive efficiency, and were sixth in three-point percentage.
Through four postseason games, the exact opposite has been true. Cleveland is fourth in defensive efficiency and 15th in three-point percentage, a drop of 5.2%.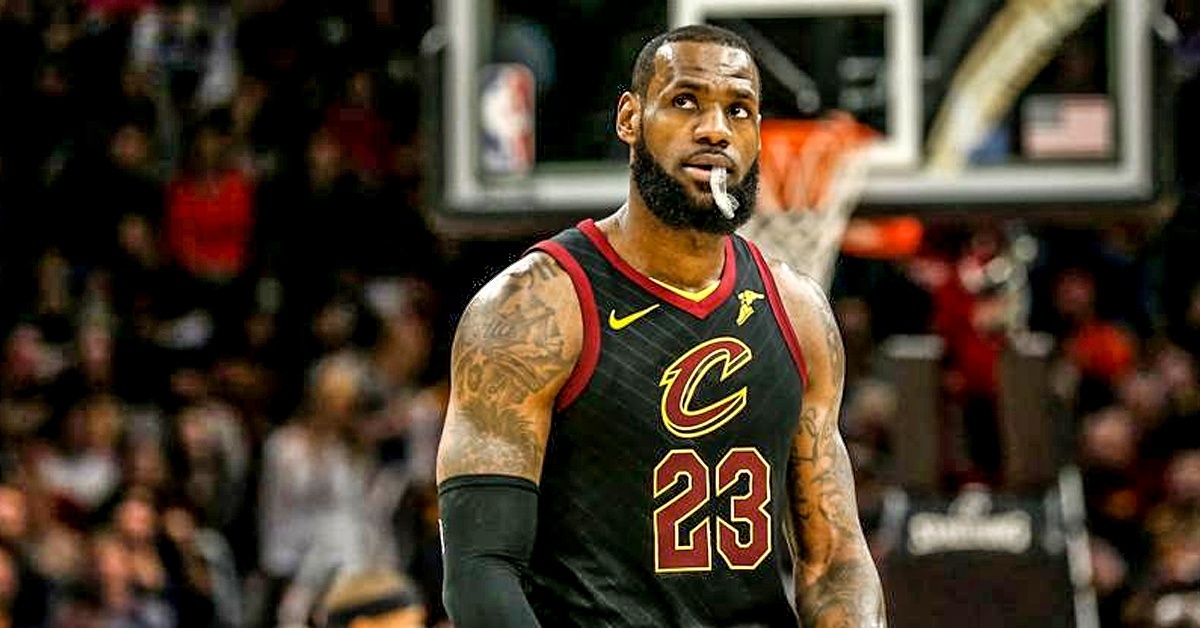 This 180-degree turn is a good thing. The Cavs have tightened up their defensive technique and effort (for the most part), which was their problem in the regular season. They would not be able to make it far in the playoffs if they continued to play a league-worst defense.
The shooting is a concern, but the Cavs have lots of good shooters, and some of them are just in a slump right now. Things will even out, and the team as a whole will rebound offensively. If there is one bright spot in the shooting slump, it's that, as ineffective as Kevin Love has seemed, he is shooting 40% from deep. Cleveland would do well to get him the ball more on the perimeter.
Aside from Myles Turner and Domantas Sabonis dominating Love and Tristan Thompson on offense, one of the Cavs' bigger problems so far this series has been their guard play. Rodney Hood is shooting 22% from deep, and Jordan Clarkson will make two shots and go completely cold for the rest of the game.
George Hill has been injured, but he's solid when he plays. J.R. Smith has been excellent defensively and is getting into a shooting rhythm, and Jose Calderon has been decent in his limited playing time.
Inconsistent is the word to describe Cleveland's guard play, and that's where Rose and Wade would be a big help right now.
When the two were playing for the Cavs, they weren't efficient, but they were consistent.
In 46 games with the Cavs, Wade averaged 11.2 points and 3.5 assists in 23.2 minutes per game. He shot 46% from the field and 33% from deep. Those are not fantastic percentages, but his impact went beyond stats. He was able to score off the dribble and create his own shot. He was a threat to score or pass near the basket, opening up shooting and driving lanes for other players.
His defense was also quite good. In his prime, Wade was one of the best defenders in the NBA, and while he is not at that level due to his age, he can still lock down some players when he's dialed in. The Cavs kept his playing time low because they wanted to save him for the playoffs where his leadership and experience would be vital. But Wade became homesick, and was traded to the Miami Heat.
If Wade were still on the team, he would combine with Hill and Smith to give the Cavs three very good back-court defenders on the floor at the same time. Against small lineups, this would be very useful. Wade's slashing and finishing ability would be nice to have as well. Right now, LeBron James seems to be the only player capable of creating looks for other shooters, and that's not going to help the team win.
Rose was unspectacular during his stint in Cleveland, and he was plagued by injuries to the point where he took a few weeks to get his mind right about basketball. Once he was traded to the Utah Jazz, Rose was immediately waived and was not picked up until the Minnesota Timberwolves called him.
Rose was not great for Minnesota in the regular season either, but he has gotten healthy and made some mechanical changes to his jumpshot recently. He looks more explosive and has been a huge boost off the bench for the T-Wolves.
Rose is shooting 71% on three-pointers, although the sample size is small – five of seven in four games. In 23.8 minutes, Rose is scoring 14.8 points on 52% shooting. His defense still leaves much to be desired, but it's good to see him finally getting back into an offensive groove.
Trading Rose was necessary in order to acquire Hood and Hill, but losing Wade was something that should not have happened. Wade seemed like he was enjoying playing with his friend LeBron James again, and even though he did want to eventually return to Miami, having one more shot at an NBA championship should have been enough to convince him to stay for a few more months. Wade could then have returned to his home after the season.
But Wade made his decision, and the Cavs honored it, even though it hurt them as a team. It was a nice gesture as an organization, although disappointing to many fans.
Having Rose and Wade on the team would improve the Cavs offensively, but they can't think about the "What ifs?" They have to focus on getting their key players back on track and winning this first-round series.