FULL HIGHLIGHTS: Cavaliers Complete Sweep Of Hawks, Will Play In Franchise's 2nd NBA Finals, 118-88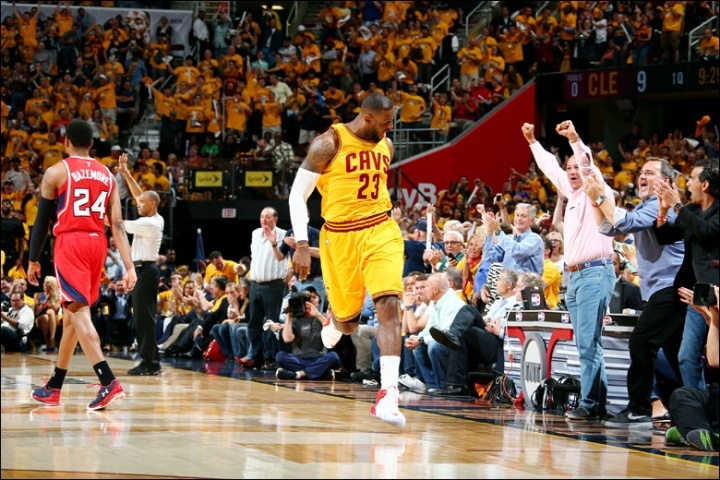 Find all of today's top plays and highlights on the next page below!
The Cleveland Cavaliers have defeated the Atlanta Hawks tonight to complete the four game sweep and advance to their 2nd NBA Finals in franchise history. Kyrie Irving returned from a two game absence tonight as well.
The Hawks started out strong against the Cavs tonight and kept the game close…for the first two minutes. Tied at four apiece, the Cavs ran off a 10-2 run to take a 14-6 lead, and by the end of the quarter, Cleveland had the lead at 32-20.
The Hawks cut the Cavs lead to 26-28 after an 8-2, but back came the Cavs with their own 7-0 run that started a 20-5 run that broke the game open as Cleveland took a 55-35 lead. The Cavs took a 59-42 halftime lead.
Atlanta couldn't get much closer in the third quarter, cutting the 17 point halftime lead to 15. From that point on, Cleveland just had that extra pep in their step and upped their lead up to 25 by the end of the quarter at 85-60.
The Cavs played the second unit until about 5:30 remaining when they were able to run off an 11-4 run that effectively put the nail in the coffin at 74-103. Not that the game wasn't over before, but the Cavs and the Q started celebrating at that point. To make matters even better, Joe Harris came off the bench and scored seven points. The final score of 118-88 was irrelevant as Quicken Loans Arena was celebrating their second ever Eastern Conference Championship.
LeBron James failed to reach his triple-double plateau as he finished with 23 points, nine rebounds, and seven assists. Tristan Thompson had 16 points and 11 rebounds while Kyrie Irving had 16 points and five assists. Timofey Mozgov scored 14 points and added seven rebounds and three blocks. J.R. Smith came off the bench for 18 points and 10 rebounds.
The NBA Finals begin on June 4. Cleveland will be on the road facing either the Golden State Warriors in Oakland, California or the Houston Rockets in Houston, Texas.
Find all of today's top plays and highlights on the next page!