Cavs GM Koby Altman: Rift between LeBron James and Kyrie Irving is overblown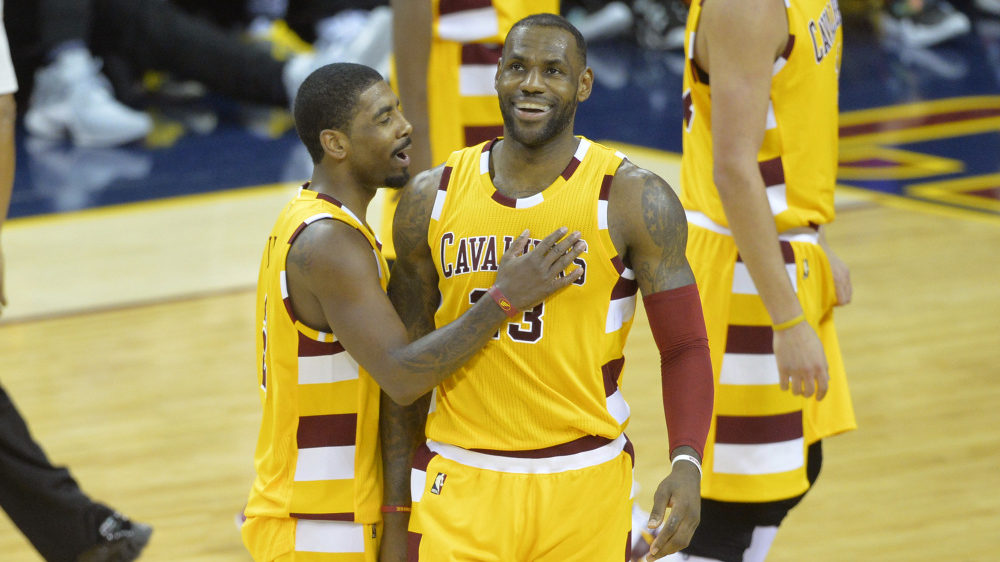 Kyrie Irving requested to be traded and it seems as though the world is coming to an end.
When news is delivered about a player of his stature, the NBA world turns into a frenzy of conspiracy theories, trying to work out why a player has chosen to leave or take a different path.
This has been no different with the Cleveland Cavaliers' guard. From liking Instagram posts to going all the way to last year to see little signs of uncovering the truth, the NBA community has been chaos since the announcement.
Luckily for Cavs fans and maybe all of mankind, the former world champions have steadied the ship as of late. Firstly, his teammates threw their support behind Irving, expressing their hope that he has a change of heart and continues to play within their tight knit group. Secondly, Cavaliers owner Dan Gilbert recently stated he expects Irving to be in uniform for training camp, which commences next month. Lastly, and perhaps more importantly, leader LeBron James comprehensively squashed all rumors that he and Irving had beef, with some absolutely ridiculous claims coming out that the pair hated each other.
Such revelations catch you off guard, and Irving's has sent a shockwave through the league unlike any player in several years. For a couple of days it looked as though the organization was on the brink of collapsing completely and falling apart, but thankfully, enough composure was found, and the Cavs have since taken a step back and somewhat relaxed the situation.
They did however finally gave their fans some good news amidst all the controversy, as they acquired former MVP Derrick Rose. This was a brilliant coup for the roster, and a bargain at that as Rose joined Northeast Ohio for a veteran's minimum. As good as it was, perhaps the most important signing they've made in the recent days is the hiring of capable general manager Koby Altman.
The media was eagerly awaiting the announcement press conference with both Gilbert and Altman, and the Cavaliers' new GM handled the situation brilliantly. He was cool, calm, and collected, taking control of the situation at hand.
During the presser, Altman put to bed the rumors of James and Irving having issues with eachother, labeling the whole accusation as "overblown."
FromTranscribed by William Lou of The Score.
"I think a lot of it's been overblown," Altman said. "I think a lot of people who are in this building every day haven't seen any of that animosity. Along with Kevin Love, this is a group that has gotten us to three straight Finals and won an NBA championship together."

"They play great together on the floor, and a lot of that I do think is overblown. We haven't seen a lot of this animosity that's sort of been out there in the media," Altman said.
This was music to every Cavs' fans ears, as this could be the most crucial aspect of whether Irving may in fact have a change of heart and remain inside Quicken Loans Arena or not. His relationship with James is of the utmost importance, and the two have been devastating as a duo in taking out the Eastern Conference title for three consecutive seasons.
The hiring of a GM will go a long way in steadying the ship in Cleveland. It has been a crazy couple of weeks but Altman looks as though he understands exactly what is needed for the franchise and the players moving forward.