Cavs GM Koby Altman receives praise for 'showing real poise' in Kyrie Irving situation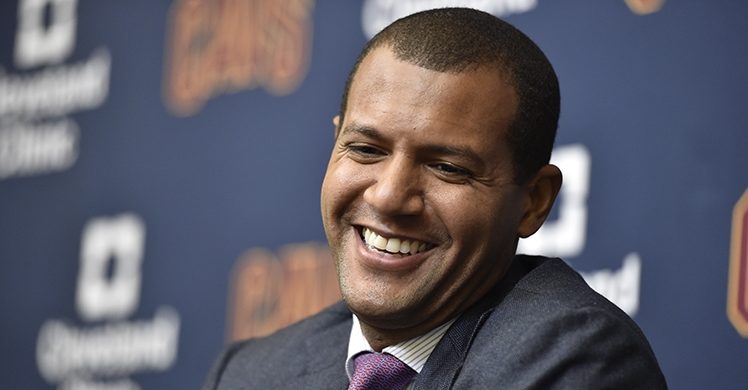 Koby Altman may have just been promoted to general manager of the Cleveland Cavaliers, but now the 34-year-old executive gets the unenviable task of dealing with the drama surrounding Kyrie Irving's recent trade request. All things considered, Altman has handled the situation with class — a fact one opposing GM has taken note of.
"I'll say this about [Altman]," one rival GM interested in Irving told ESPN's Adrian Wojnarowski. "He isn't overwhelmed. He's showing real poise."
Now that Irving's trade request has been made public, several teams across the association are calling the Cavs' front office to get a feel for his availability. In fact, ESPN states that there have been approximately 20 teams interested in Uncle Drew. Teams making offers for the crafty ball-handler include: the San Antonio Spurs, LA Clippers, Phoenix Suns, Minnesota Timberwolves, New York Knicks, and Miami Heat. The Boston Celtics are also said to be watching with a keen eye.
Obviously, Altman and the Cavs aren't going to trade Irving away for nothing. If they do move him, they hope to get a nice haul in return. As Woj writes in his article, Altman and the Cavs have no obligation to acquiesce to Irving's trade request, as he still has two years remaining on his contract with the team. Furthermore, in a live press conference on Wednesday afternoon, Cavs owner Dan Gilbert said he expects to see Irving in training camp.
Will Irving be wearing a Wine and Gold uniform at the start of training camp, as Gilbert says? Or will the Cavs indeed trade him? As of today (Friday), he remains a member of the Cavaliers roster.