The Boston Celtics soundly defeated the Cleveland Cavaliers in the first two games of the Eastern Conference Finals, but in Game's 3 and 4, the Cavs returned the favor. In particular, Monday's performance is closer to how Cleveland should play for the remainder of the series, as nothing out of the ordinary happened. Most of the Cavaliers played well, with one major exception.
The Cavs' Game 3 blowout victory was extremely impressive, but it was an anomaly. It is unrealistic to expect Cleveland to shoot 50% on three-pointers and have eight guys score eight or more points. An offensive outburst like that may happen once of twice per series at the most, so a more consistent example of the "good Cavs" came in Game 4.
The Cavaliers came back down to earth, as they shot 35% from three-point range, which is still quite good, but not 50% good. Six players scored eight or more points, which, again, is still pretty solid.
But this time, LeBron James took over the game, scoring 44 points to go along with five rebounds and three assists. The ball movement that helped Cleveland win by 30 points in Game 3 wasn't there, as James took 28 shots to go along with 13 free-throw attempts.
Most of the Cavs' role players stepped up to provide James with the support he needed. Kyle Korver finished with 14 points and a game-high three blocks, J.R. Smith scored nine, George Hill scored 13 on a cool 6-of-8 shooting, and Tristan Thompson continued his successful series with 13 points, 13 rebounds, and two blocks. Larry Nance Jr. had seven points, three rebounds, two steals, and a block in ten minutes.
The overall defensive effort of the Cavaliers very good again, as the Celtics were held to 41% shooting. That defense was crucial, as the Celtics actually outscored the Cavs in the final three quarters. Cleveland scored 34 to Boston's 18 in the first period, and that early cushion allowed the Cavaliers to win by nine. The only player to not contribute offensively in significant playing time was Jeff Green (two points), who still finished with a +5 +/- due to his energetic defense.
However, not every player has been playing well. What makes these two victories even more impressive for the Cavs is that they occurred despite a lack of impact from de facto second option, Kevin Love.
Cleveland fans are used to Love seemingly disappearing in the NBA Finals against the Golden State Warriors, but it seems that his fade has begun early this year.
During the 2016-2017 Eastern Conference Finals against Boston, Love averaged 23 points per game and shot 53% from beyond the arc. Throughout the first four games of this series, Love has averaged just 15 points on 36% shooting, and he has ten turnovers in the past two games. The disparity in performance against the same team has to do with two players that the Celtics added this past offseason.
At 6'10" 260 lbs, Aron Baynes has ten pounds on Love at the same height, so he has been able to out-muscle Love for rebounds, grabbing 27 in four games. This may not seem like a lot, as Love has 48 over the same time span, but Baynes has also played about 40 fewer minutes than Love.
Baynes hasn't been the only new player that Love has been forced to worry about. Marcus Morris is 6'9″ 235 lbs, so he is quicker than Love in the post and on the wing. But, Morris is also extremely strong and physical, which makes him a bad matchup for the UCLA product. Morris has 23 rebounds in the series, but his impact goes beyond stats. He has been tasked with defending not only Love, but also LeBron James.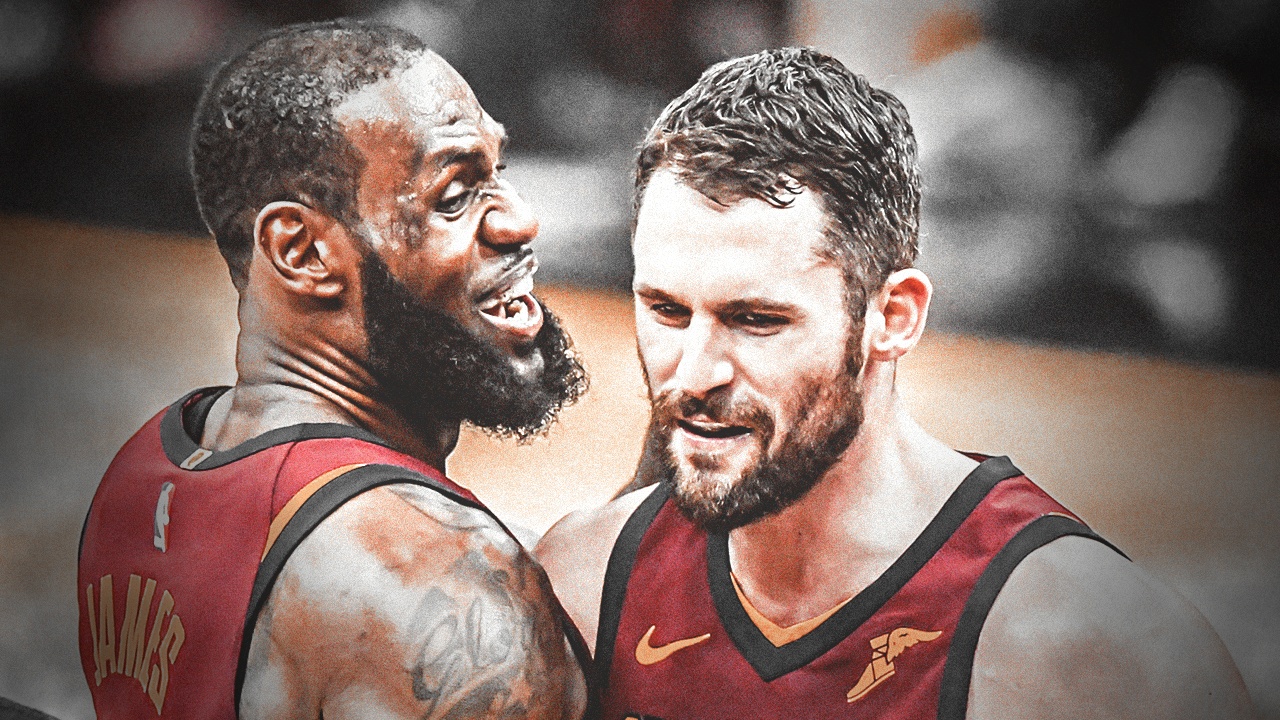 Obviously James can't be stopped and he is having a great series offensively, but Morris has done a very good job of neutralizing Love, which forces the Cavaliers to depend upon their inconsistent role players more often. This worked in the Celtics' favor in the first two games, but the Cavs' bench has been very good since then. Still, if Cleveland cannot rely on Love to be the secondary scorer to James, the Celtics are in a much better position.
Love is too good of a player to be held in check indefinitely. Even in the 2016-2017 NBA Finals, he scored 23 and 27 points in two games. When Love is hitting his shot, he is very hard to slow down.
If James, Love, and two role players are scoring efficiently, the Cavs are at their best. The series is tied even without Love playing to his ability, and that has to be encouraging for head coach Tyronn Lue.
Kevin Love hasn't been as effective as he usually is, but the Cavaliers have made this a competitive series nonetheless. Love will break out at some point, and perhaps that will be in Game 5 on Wednesday evening.