Full Highlights: Well-rested Cavs dismantle Celtics and steal home-court advantage; 117-104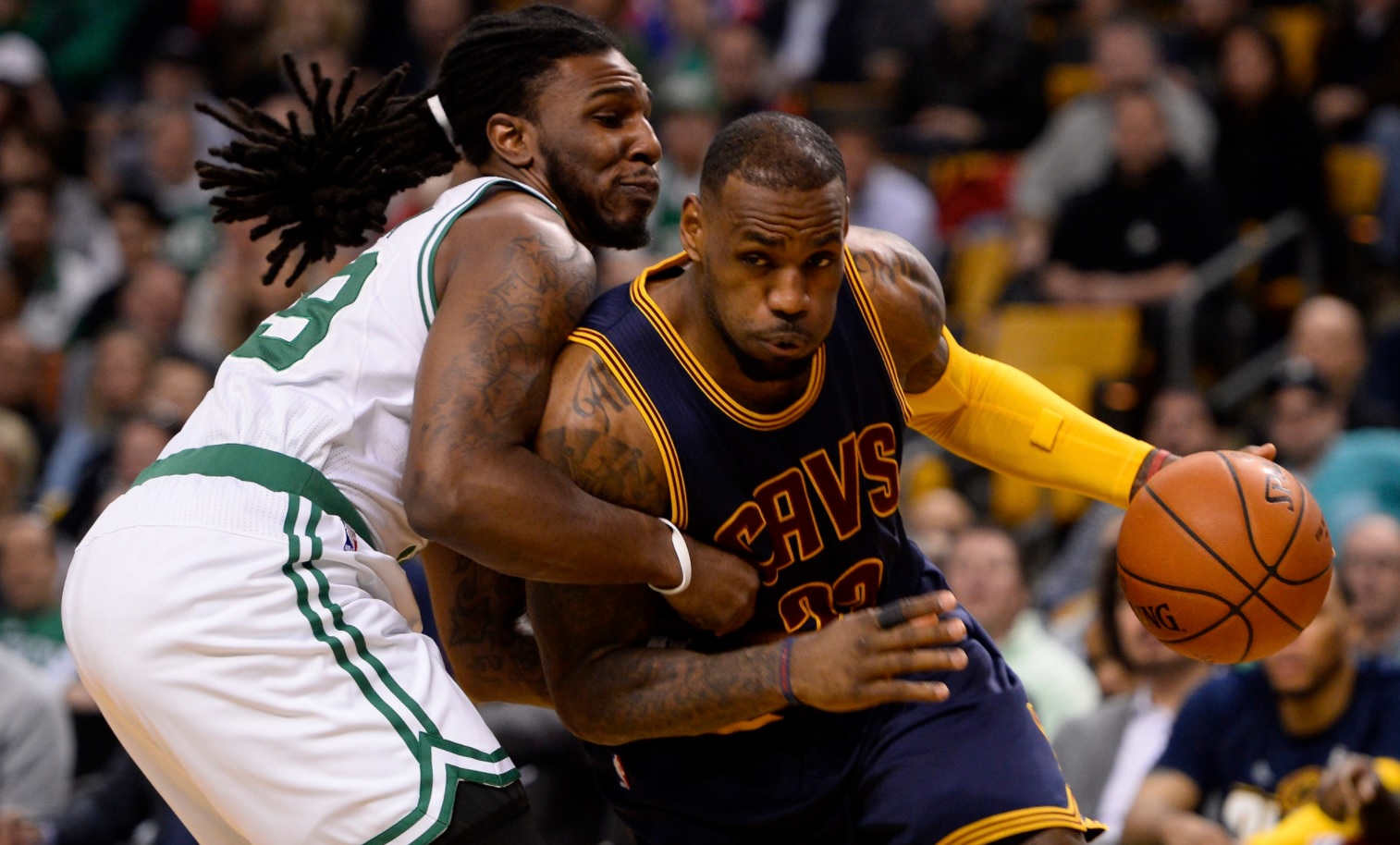 After nine days off, the defending champion Cleveland Cavaliers squared off against the Boston Celtics inside TD Garden for Game 1 of the Eastern Conference Finals.
The Cavs jumped out to an early 6-2 lead through the first three minutes of tonight's game. The Celtics, who were struggling a bit from the field in the first quarter, managed to cut their deficit to three, but their momentum was short-lived. LeBron James, who seemed to be in an attacking kind of mood, quickly  pushed Cleveland's advantage to six near the midway point of the opening frame, forcing a Celtics timeout.
It seemed like the Celtics weren't able to hit the broad side of a barn. In fact, they were 1-of-7 from downtown at the four minute mark of the first quarter. Making things worse, James continued pounding the paint, leading the Cavs on a 14-2 run. All of a sudden, the champs were up by 11 points.
James went on to score 10 of Cleveland's last 12 points in the first quarter, pushing his tally to 15 points on 7-of-8 shooting from the field. At the first break, the Cavs were leading by quite a wide margin, 30-19.
As he often does, Cavs head coach Tyronn Lue called on his reserves to start the second quarter of play. For whatever reason, the Celtics continued to struggle with their shot. A Deron Williams-led surge vaulted the Cavs to a 16 point advantage at the ten minute mark of the quarter, forcing yet another Boston timeout.
The arena began to grow silent. The Beantown faithful seemed a bit uneasy.
Iman Shumpert knocked down the Cavaliers' first three-point shot of the night near the midway point of the quarter. Surprisingly, the champs were 0-of-6 from beyond the arc up to that point.
Time continued to tick away, and the Celtics continued to miss shots. A series of crowd-silencing plays from James, Kyrie Irving, and Kevin Love led to a 12-0 Cavs run. As a result, the Cavs were up by 23 points.
At the break, the Cavs were holding a 22 point lead over the No. 1 seeded Celtics. James led all scorers in the opening half, racking up 23 points on 10-of-15 shooting, five rebounds, four assists, and one steal.
LeBron James bullied his way to 23 first-half points on 10-15 shooting with 5 rebounds and 4 assists against the Celtics.

— Tomer Azarly (@TomerAzarly) May 18, 2017
#Cavs up 61-39 at the break, shooting 56%, 2-9 from deep..Bos 34%, 1-15 from deep…Cavs 28-14 on the boards..+10 paint

— Fred McLeod (@CavsFredMcLeod) May 18, 2017
[HALF] Cavs locking down the Celtics, 61-39!
Follow LIVE: https://t.co/dVNKrsEv2D pic.twitter.com/9A9bwA4jj7

— Cavs Nation (@CavsNationNet) May 18, 2017
Coming out of the locker room, the Cavs continued to build on their lead. Love knocked down a transition three to push Cleveland's advantage to 27 points. The former UCLA stand-out wasn't finished there, however. Just a few moments later, K-Love stepped up and buried another big three.
Tristan Thompson was absolutely terrorizing the Celtics in the paint all night long. Late in the third quarter, the 6'10" rebounding machine had already racked up 17 points on 7-of-7 shooting and eight rebounds (six offensive).
Love continued to shoot the ball with a nice rythm. With time waning in the third quarter, he calmly knocked down back-to-back three-pointers. Heading into the final quarter, the Cavs were holding a 17 point advantage, 92-75.
Coach Lue once again called on his reserves to start the final frame of play. Led by James, the Cavs managed to maintain a 20 point lead for much of the final frame.
In an act of desperation, the Celtics began intentionally fouling Thompson in hopes of a few missed free throws. However, their plan backfired, as Double T confidently stepped up to the charity stripe and knocked down a pair. As a result, Boston's hack-a-Thompson campaign came to a quick end.
When the final horn blew inside TD Garden, the Cavs had made history with their 12th straight win in the playoffs, defeating the Celtics on their home floor in Game 1 by a score of 117-104.
[FINAL] Cavs steal Game 1 from Boston, 117-104!
HIGHLIGHTS: https://t.co/dVNKrsEv2D pic.twitter.com/bAA1uN1nWZ

— Cavs Nation (@CavsNationNet) May 18, 2017
[FINAL]
LeBron James: 38pts, 9reb, 7ast, 2stl
Kevin Love: 32pts, 12reb, 1blk, 1stl
Tristan Thompson: 20pts, 9reb, 2ast, 2stl

— Cavs Nation (@CavsNationNet) May 18, 2017
https://youtu.be/PPAmOWRvcS0
Tonight's game ball goes to LeBron James. In his 42 minutes of playing time, The King recorded 38 points on 14-of-24 shooting, nine rebounds, seven assists, and two steals. It was The King's seventh straight playoff game with 30 or more points. The last player to accomplish that feat was Shaquille O'Neal in 2000.
It's about to be 29 straight series for @KingJames winning at least one road game….Tristan with a playoff career best 20, K Love 32

— Fred McLeod (@CavsFredMcLeod) May 18, 2017
Honorable mentions go to Tristan Thompson and Kevin Love. Thompson recorded a personal playoff-high in scoring with 20 points (7-of-7 from the field) and nine rebounds in 34 minutes of playing time. Love had already posted a playoff career-high through three quarters of play. In the end, K-Love finished with 32 points (6-of-9 from beyond the arc) and 12 rebounds in his 34 minutes of action.
Game 2 between the Cavs and Celtics is scheduled for an 8:30 p.m. tip, right back inside TD Garden.