Cavs botched up final play vs. Spurs drawn up by Tyronn Lue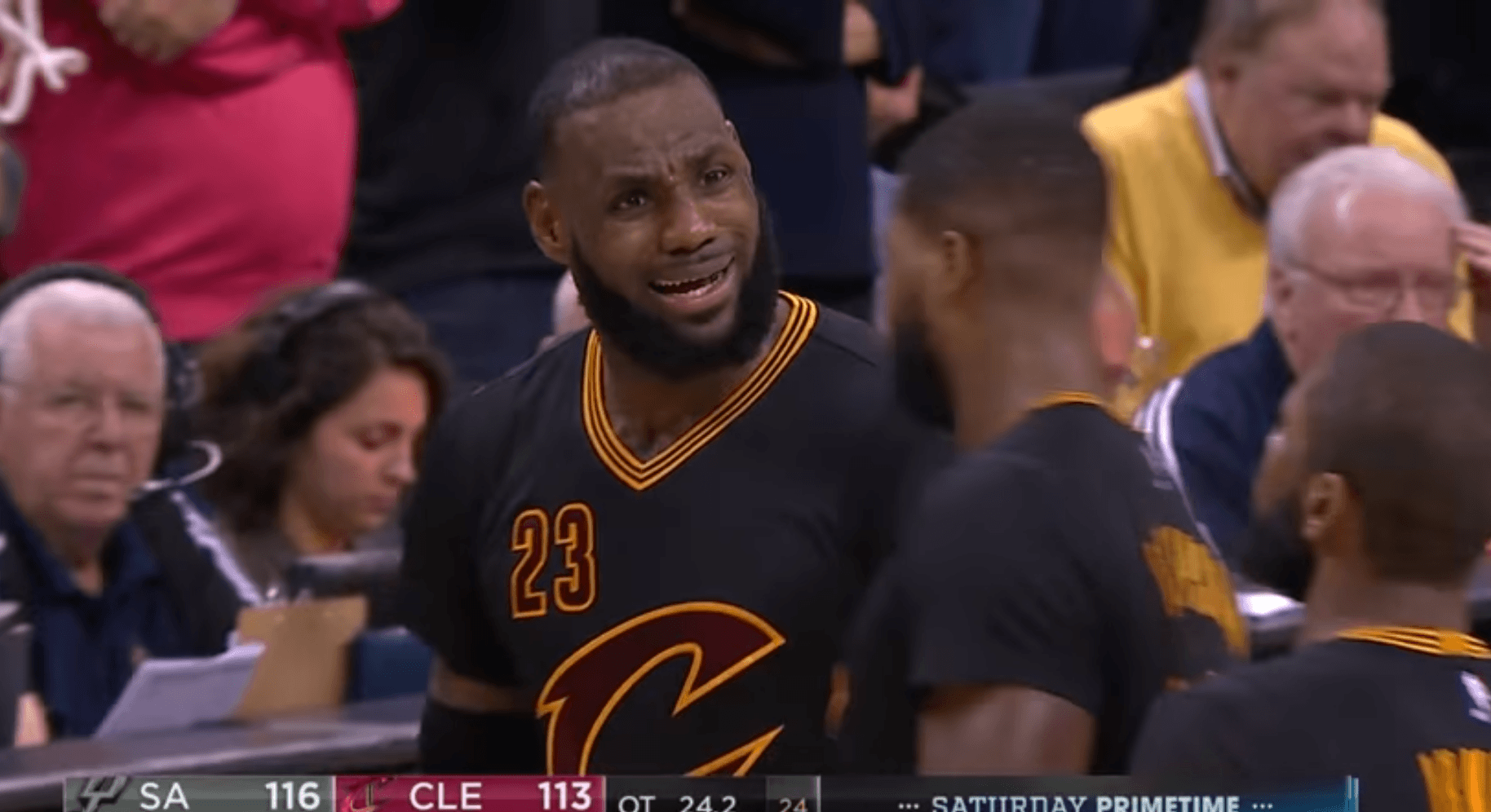 Anyone who plays or watches the game of basketball consistently knows that games isn't won or lost as a result of a final play. Games are won by a series of runs, ability to take care of the ball as well as run plays, and sometimes, just plain luck.
Saturday night's game between the Cleveland Cavaliers and San Antonio Spurs saw a lot of solid defense and big-shot making. The Spurs edged the Cavs with their execution, but the end of the game for the Cavs left something to be desired.
With 25 seconds left in overtime, the Cavs called timeout down three points. Tyronn Lue had drawn up a play and it was now up to his team to execute. LeBron James caught the inbound pass, and immediately turned to throw a perfect wraparound pass to the opposite corner for a three-point shot. Well, it would've been perfect, but the only problem was that corner spot was empty the entire time.
A confused and frustrated James looked to the Tristan Thompson and Kyrie Irving who were supposed to execute that play to free up Irving be in that corner spot to catch, shoot, and hopefully tie game up at 116 apiece. Thompson didn't set the screen, Irving didn't run to the corner, and the ball just bounced it's way out of bounds without a player near it.
Here's the play:
The Cavs had run that play to perfection earlier in the season for Mike Dunleavy. LeBron gets across the lane to the ball-side and receives the ball above the low block. While he's getting in position to catch the ball, Tristan Thompson crosses James' path to set a screen on Dunleavy's unsuspecting defender on the wing, freeing him Dunleavy to get to the corner. Dunleavy begins his cut to the corner just as James begins his motion towards the baseline to throw a bounce pass that'll tiptoe the baseline right to Dunleavy in the corner for a three-pointer.
Dave McMenamin of ESPN perfectly broke down and explained this play called the "punch-snap-hammer" in an article earlier this month.
In Saturday's game, Thompson seemed to forget the play as James clapped at him to get his attention. Thompson ends up being a little late and doesn't end up setting the screen for Irving. Despite not getting the screen, Irving should've at least dove to the corner where James' pass would've been and created another play from there. At the same time, James could've been a bit more patient and seen that the play just wasn't developing as drawn up and improvised from there. According to the play, however, James did exactly what he was supposed to in that play and hit the corner. Although its an unfortunate turnover that added to his unacceptable total of seven giveaways last night, it wasn't really his fault that the other guys failed to execute that particular play.
James didn't call his teammates out by name, but he did indicate that forgetting the play is unacceptable.
"As a ball club that's trying to win a championship, we can't have you go from a timeout to the court and forget what you're supposed to do," said James. "It's that simple."
Tyronn Lue said the Cavs' watched the tape and knew it would've worked if executed as drawn up.
"We watched it on tape, Kyrie would've been open," Lue said. "Danny Green had no clue what was going on but we didn't execute it right.

"There was confusion at the beginning, with the first part of it, but then Tristan has to come up and set the hammer," Lue continued. "He kind of stopped in the middle of the paint because I guess the way (LaMarcus) Aldridge was guarding him or whatever. But we didn't execute it cleanly."
Irving, who expected the screen from Thompson, said there was confusion since the screen was never set.
"There was a miscue there was supposed to be a flare on the back side with me and Tristan," Irving added. "Going forward we'll probably look at film and see where we can get better at that throughout the whole entire game."
Although the loss does sting since the Cavs held a double-digit lead early in the game and worked hard to come back in the fourth quarter with a chance to win, it's better for this kind of problem to happen in a regular season game as opposed to a big playoff or Finals game.