Report: Cavs Big Three will play tonight vs Portland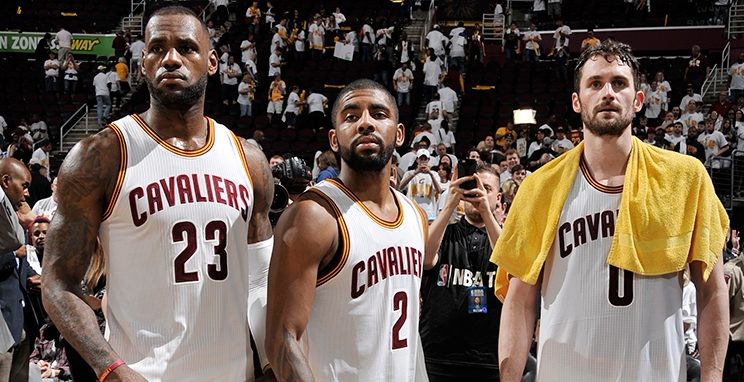 Tonight, the NBA's defending champion Cleveland Cavaliers are slated for a match-up with the Portland Trail Blazers inside The Moda Center at 10:00 p.m. EST.
The main storyline heading into tonight's bout has been the snowstorm that hammered America's Northwest. In fact, so much snow accumulated, Portland had to shut their airport down last night. This caused quite an issue for both the Trail Blazers and the Cavaliers, as both teams are on back-to-back sets.
RELATED: Are Channing Frye & Kyle Korver better for Cleveland in 2017 or 2008?
Last night, the Cavs attempted to leave Utah after losing to the Jazz (100-92), but were delayed for two hours on the runway before being allowed to take off due to the inclement weather in Portland. After departure, the Cavs were re-routed to Seattle then bussed to Portland. After all of their delays in travel, the Cavs arrived in Portland at 5:15 a.m. EST.
The Cavs' plane is grounded in UTA because of snow in POR. Been on the runway for 2 hours, per a team source. Unsure if they'll get out.

— Dave McMenamin (@mcten) January 11, 2017
Update: The Cavs landed safely in Portland around 5:15 a.m. EST. The Blazers could be headed to Seattle. https://t.co/Khxznm04me

— Jason Lloyd (@JasonLloydNBA) January 11, 2017
The Trail Blazers defeated the Los Angeles Lakers last night inside The Staples Center (108-87), but they've had even more delays in their travels to Portland. The Blazers, who were also re-routed to Seattle, finally managed land safely at 3:55 p.m. EST today on a separate flight.
Blazers landed in Seattle at 3:25 am PST, per flight records. Scheduled to depart SEA at 11:52am, land in Portland at 2:50pm. Game at 7:30

— Jason Lloyd (@JasonLloydNBA) January 11, 2017
The Blazers announce they have landed at PDX at 12:55 pm

— Jason Quick (@jwquick) January 11, 2017
Despite all of the woes in travel, ESPN's Dave McMenamin is reporting that Cleveland's Big Three (LeBron James, Kyrie Irving, and Kevin Love) will indeed play in tonight's game.
Despite the back-to-back situation and all the travel woes getting into POR, a team source tells ESPN that LeBron, Love & Kyrie will play

— Dave McMenamin (@mcten) January 11, 2017
The bad weather in Portland has led to a bit of a unique situation. Neither team has been able to prepare for tonight's game as they normally would have. Routines are often a big element in the life of an NBA player, so we'll see how all of this has affected them. It's safe to say that the players will feel tired tonight, but they know what has to be done.