David Richard-USA TODAY Sport
Recently Dion Waiters made comments regarding the Cavaliers backcourt and how he believes Cleveland boasts the best one, specifically over John Wall and his Wizards backcourt partner in crime, Bradley Beal.
On Monday, Bradley Beal told reporters that John Wall and himself are "definitely the best backcourt in the league."
Dion Waiters then responded to Beal's claim after practice on Tuesday. "That's nonsense. [Beal is] supposed to say that, but I know deep down, he's not messing with me and Ky [Kyrie Irving]. I think me and Ky are the best backcourt, young backcourt. That's all."
Of course then John Wall responded to Waiters with "you gotta win a playoff game first before you can talk. You gotta be a starter first."
The exchange between these players now gives us an opportunity to look at some of the top backcourts in the NBA. Although Kyrie Irving and Dion Waiters have incredible potential, what cannot be overlooked is the fact that potential does not equate to results.
Find out where Cleveland's backcourt ranks amongst the Top 10 Best NBA Backcourts on the next pages!

Christian Petersen/Getty Images North America
10. Phoenix: Goran Dragic + Eric Bledsoe
2013-2014 Season Averages
Dragic: 20.3 ppg, 3.2 rbg, 3.2 apg.
Bledsoe: 17.7 ppg, 4.7 rbg, 5.3 apg, 1.6 spg.
While only having about less than a season of experience together, this duo proved that they could be a legitimate threat in the West. With the addition of Issiah Thomas it will be interesting to see how Phoenix places these guys in the rotation. Together, Dragic and Bledsoe have the potential to move up quite higher on this list with more seasoning.

AP Photo/LM Otero
9. Brooklyn Nets: Deron Williams + Joe Johnson
2013-2014 Season Averages
Williams: 14.3 ppg, 6.1 apg, 1.5 spg.
Johnson: 15.8 ppg, 3.4 rbg, 2.7 apg.
What these players have lost in athleticism they make up for with experience. While they are not really an elite duo and likely can't carry a team deep into the playoffs, they provide consistency to Brooklyn.

Mark D. Smith-USA TODAY Sports
8. Oklahoma City: Russell Westbrok + Reggie Jackson
2013-2014 Season Averages
Westbrook: 21.8 ppg, 5.7 rbg, 6.9 apg, 1.9 spg.
Jackson: 13.1 ppg, 3.9 rbg, 4.1 apg.
These two rival the athleticism posed by Wall and Beal in the backcourt; however, they do not complement each other as well. Nevertheless, these two are both ball-handling, shot-creating guards who give OKC depth a the point.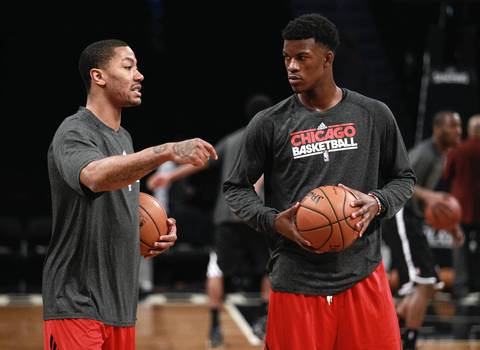 Chicago Tribune
7. Chicago: Derrick Rose + Jimmy Butler
2013-2014 Season Averages
Rose: 15.9 ppg, 3.2 rbg, 4.3 apg.
Butler: 13.1 ppg, 4.9 rbg, 1.9 spg.
Regardless of how slow Derrick Rose has come since coming back from his injury he still was an MVP of this league. Jimmy Butler is a more than formidable backcourt mate, especially on the defensive end and on the glass. If Rose can stay health, expect these two to ascend on this list as a healthy Derrick Rose is a top 3 point guard in this league.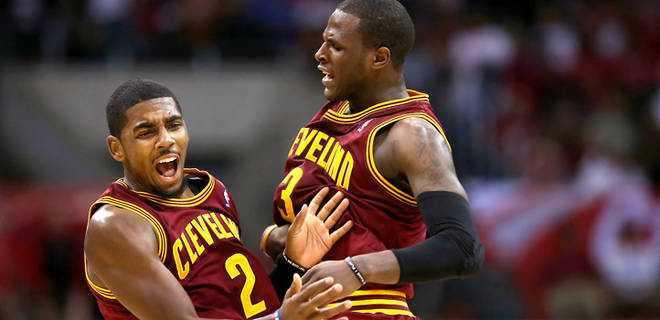 Getty Images
6. Cleveland: Kyrie Irving + Dion Waiters
2013-2014 Season Averages:
Irving: 20.8 ppg, 3.6 rbg, 6.1 apg, 1.5 spg.
Waiters: 15.9 ppg, 3.0 apg.
This ranking may shock some, but based on past performance it would be premature to anoint these two as a legitimate top 5 backcourt. There has been no evidence so far that the two 22 year-olds can gel, but based on pure individual talent alone they combine to form what could potentially be the best backcourt in the league if they can reach their ceiling as a duo.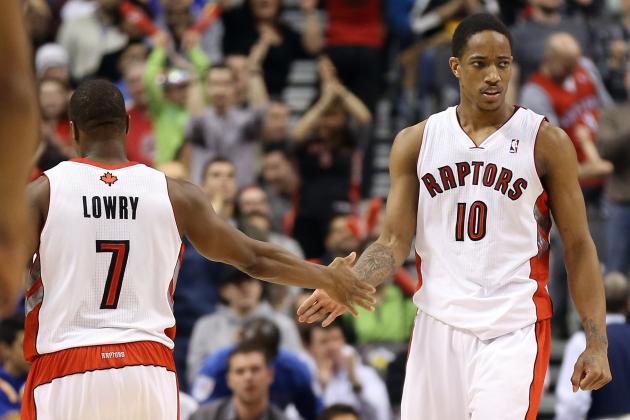 Tom Szczerbowski-USA TODAY Sport
5. Toronto: Kyle Lowry + Demar Derozan
2013-2014 Season Averages:
Lowery: 17.9 ppg, 4.7 rpg, 7.4 apg, 1.5 spg.
Derozan: 22.7 ppg, 4.3 rpg, 4.0 apg.
These two round out the top 5 based on their performance as duo last season. Coming into the season, these two were not projected to achieve nearly as much as they did. Lowry established himself as a legitimate top 10 point guard, while Derozan had an All-Star season.

Eric Gay-Associated Press
4. San Antonio: Tony Parker + Danny Green
2013-2014 Season Averages:
Parker: 16.7 ppg, 5.7 apg.
Green: 9.1 ppg, 3.4 rbg, 1.5 apg.
Not much has to be said in regards to how successful of a career Tony Parker has had, but it's amazing at his age and with his injury history that he has been able to stay playing at such a high level. Danny Green's ascendance has made these two a very viable backcourt, and his clutch 3-point shooting and tenacious defense are key reasons why San Antonio was able to take the crown in 2014.
RECOMMENDED Kelvin Kuo-USA TODAY Sports
3. Los Angeles: Chris Paul + J.J Redick
2013-2014 Season Averages:
Paul: 19.1 ppg, 4.3 rpb, 10.7 apg, 2.5 spg.
Redick: 15.2 ppg.
Chris Paul is arguably the best point guard in the NBA, and Reddick serves as an ultimate complement to Paul's x-ray vision with his spot-on shooting. Together these two are the most polished and savvy backcourt on this list.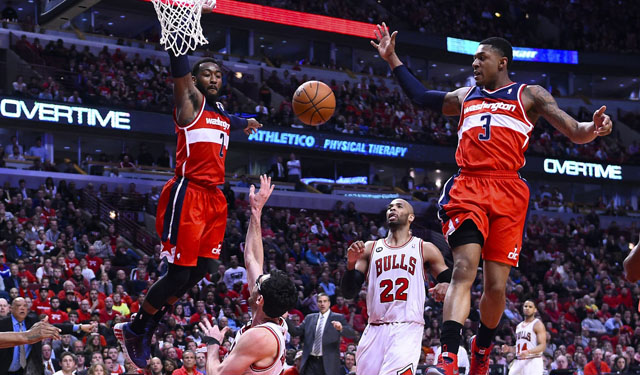 USATSI
2. Washington: John Wall + Bradley Beal
2013-2014 Season Averages:
Wall: 19.3 ppg, 4.1 rpg, 8.8 apg, 1.8 spg.
Beal: 17.1 ppg, 3.7 rpg, 3.3 apg.
Wall and Beal have a world of talent and this past season they displayed that they form a formidable duo. Arugably the most athletic backcourt on this list, these two play very naturally together, finding holes in the defense with Wall controlling the ball and Beal efficiently playing off it.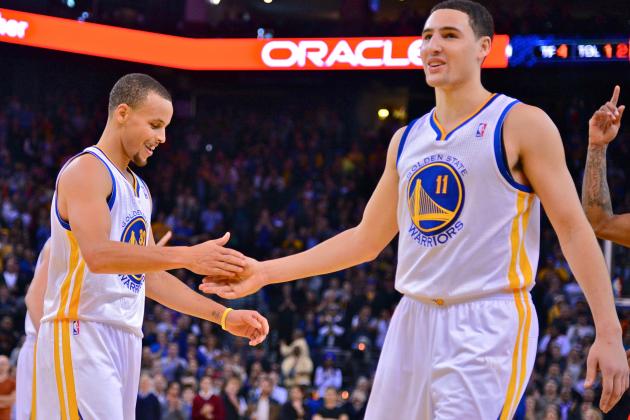 USA Today
1. Golden State: Stephen Curry + Klay Thompson
2013-2014 Season Averages:
Curry: 24.0 ppg, 4.3 rpg, 8.5 apg, 1.6 spg.
Thompson: 18.4 ppg, 3.1 rpg.
Although these two lack an NBA Championship, they undoubtedly form the most formidable scoring backcourt in the league. Stephen Curry is consistently an undeterred offensive facilitator; in addition, Thompson is a legitimate lockdown defender.