The Cleveland Cavaliers are nearly three quarters through the 2018-2019 season, and are currently on break for the NBA All-Star festivities. Cedi Osman participated in the Rising Stars Challenge, but for the the first time since 2011-2012, the Cavs don't have an All-Star. So, to pass the time, let's see what each player's report card looks like.
Collin Sexton
Grade: C+
Sexton is showing improvement, which is very encouraging, but he still has some major flaws, most notably his passing. Sexton averages just 2.9 assists per game, and has only reached five assists 17 times in 58 games. He must become a more willing passer, or he won't be able to start at point guard. However, his scoring has been very good. He scores 15.1 points per game on a pedestrian 41% shooting, but from beyond the arc, he is shooting 39%, albeit on 2.7 attempts per game. It's a small sample size, but Sexton's three-point shooting was supposed to be a major weakness for him, and that has not been the case thus far. Sexton hasn't been excellent, but he's doing alright, and will continue to improve as he plays more.
Matthew Dellavedova
Grade: B+
Brought back to Cleveland in an early-season trade with Milwaukee, Delly instantly improved fan and team morale, and brought a steady veteran presence to the lineup. His solid defense and scoring coupled with his good passing make him a great backup to Sexton, and his intensity is rubbing off on the rookie, both in games when they're playing together and during practice when the two challenge each other. Dellavedova is the same player that helped the Cavaliers win the 2016 NBA Finals, and he's the hero this team needed right now.
Brandon Knight
Grade: N/A
Three games is far too small of a sample size to judge Knight, but in his limited action, he has shown he deserves a playing role. He doesn't offer much playmaking, and his shot selection isn't the greatest, but he can create his own shot and score from anywhere on the court. Knight won't be as good as Alec Burks was, but he doesn't need to be. He won't be a part of Cleveland's future, but he's on his way to proving he can help a contender next season.
David Nwaba
Grade: B-
Nwaba has been injured for much of the season, but when he does play, he's Cleveland's best defensive back-court player. He is a solid slasher, although he has to be in order to make up for his lack of a solid three-point shot. For a player on a veteran minimum contract, he's doing just fine, and will have a role next season, whether he stays with the Cavs or gets a raise with a different team.
Jordan Clarkson
Grade: A
After an abhorrent performance in the 2017-2018 postseason, Clarkson didn't have many fans in Cleveland. This season, however, he has proved many people wrong, and is in the running for Sixth Man of the Year. He is averaging 17.5 points per game on 45% shooting, and is the clear leader of the Cavaliers' second unit. In addition to making team history, he's increasing his trade value for next season.
J.R. Smith
Grade: F
Smith played in just 11 games this season, and in those games he shot 34% from the field and 31% from three-point range. He wasn't helping the team much on the court, and Cleveland will always love him for 2016, but Smith isn't doing his legacy any favors by sitting on the couch playing NBA 2K19. He will be traded next season to a team looking to clear salary cap space, and probably won't see the court until then.
Nik Stauskas
Grade: N/A
After a whirlwind of a few weeks before the trade deadline, Stauskas wound back up in Cleveland, and has played two games for the team. He hasn't looked very good, but seems to be a great locker room guy, and it isn't like the Cavs are losing anything by keeping him.
Cedi Osman
Grade: B-
While Osman hasn't taken as large of a step forward as some had hoped, he has improved nonetheless. 12.6 points, 4.6 rebounds, and 2.3 assists on 43% shooting isn't a great statline, but for a 23-year-old getting his first taste of extended playing time in the NBA, he isn't doing badly. Osman may never become an All-Star, but he's on track to be a solid role player, and still has plenty of time to develop.
Jaron Blossomgame
Grade: C
Blossomgame plays with great effort, but lacks the quickness and shooting ability to play small forward, and the size and physicality to play power forward. It's good to see a G-League alum get minutes in the NBA, but it's hard to see Blossomgame on the team next season.
Deng Adel
Grade: C-
Adel is a long, athletic forward, and while he's 22 with time to improve, he's done next to nothing in his 12 games of action. Still, because of his age and theoretical potential, he's more likely to stick than Blossomgame.
Kevin Love
Grade: N/A
Six games (only four of which he played significant minutes) isn't enough to give Love a grade, but it's just good to see him back on the floor. His extended absence clearly affected the team, as once he went down and it was revealed he would be out for a while, all playoff aspirations (whether delusional or otherwise) disappeared. At full strength, Love may be too for this team, as winning isn't exactly in Cleveland's best interest right now, but don't tell Adam Silver that. Love may not be worth his contract, and he may not fit with the Cavs' timeline, but he's one of the best locker room guys in the league and a true fan favorite. It's impossible not the love him.
Marquese Chriss
Grade: N/A
An afterthought after being included in Houston's trade package at the deadline, Chriss has been a very pleasant surprise, and his performance in four games would earn him a very strong "A". After hardly playing for the Rockets, Chriss looks like he'll get the most playing time of his career with the Cavaliers. During his 23-point outing against Brooklyn, Chriss displayed everything that makes him such an intriguing talent. He possesses great size (6'10" 240lbs), elite athleticism, and deceptive range. It's not often that the Nets' Jarrett Allen is put on a poster, and that's exactly what Chriss did. It's unlikely he keeps up this level of play for the rest of the season, but if he would come cheap, the Cavs would do well to lock him up for the future and continue to develop him; he's still just 21 years old.
John Henson
Grade: N/A
Henson has been injured for nearly the entire season, but will have a spot on the team once he returns. He's 6'11 and is a good defender. The Cavaliers haven't had a true rim protector since…Shaq? Zydrunas Ilgauskas? The point is it's been a while. In a few weeks Cleveland's frontcourt will be very crowded.
Tristan Thompson
Grade: A-
Thompson has faced his share of ridicule, much of it deserved, but before he was bitten by the injury bug, he was having the best season of his career. He was averaging 11.5 points, 11.1 rebounds, and 2.1 assists per game. Thompson is nearly 28, and has taken on the role of veteran leader this season. The longest-tenured Cavalier may be traded next season, but for now, he's doing his job, and he's doing it well.
Larry Nance Jr.
Grade: A
Nance signed a four-year contract extension worth nearly $45 million before the season, and he's earned it with the best performance of his career. With a statline of 9.1 points, 8.3 rebounds, 3.0 assists, and 1.2 steals in 26.2 minutes per game, Nance is looking like a (relatively) poor man's Draymond Green, but without the constant dirty plays. His effort and passing open up Cleveland's offense, and Nance has even added a respectable three-point shot to his game. He is loved just for his last name, but every team would like to have a player like him.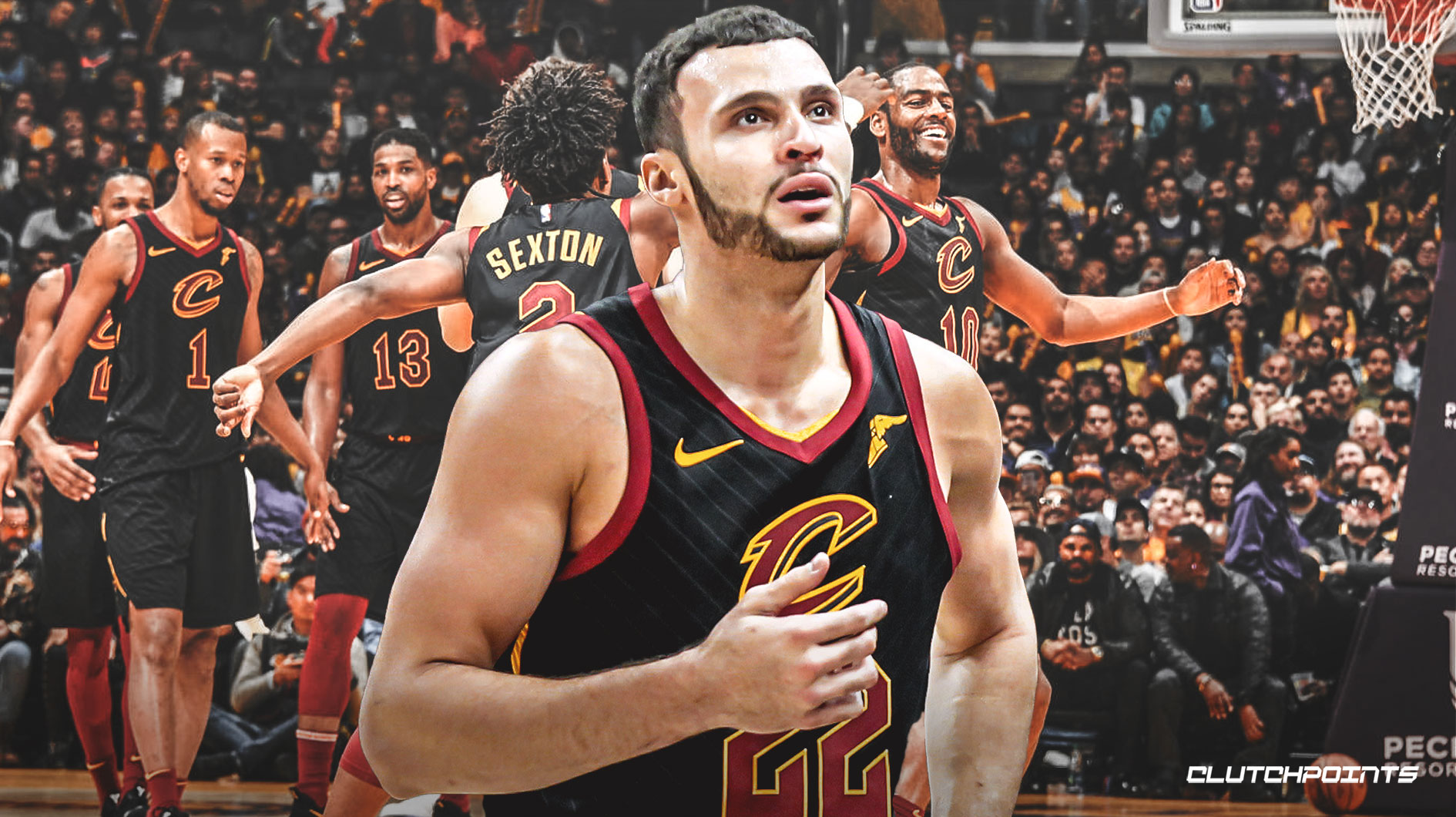 Ante Zizic
Grade: C
The only player remaining from the disastrous Kyrie Irving trade, Zizic is a throwback center playing in an era where throwback centers aren't really effective anymore. Ten years ago, Zizic would be a good starter, but now he's a backup struggling to maintain a consistent role. He's a smooth finisher around the rim with a variety of moves, but his lack of quickness and stone hands limit his opportunities to score.
Channing Frye
Grade: A++
Frye hardly plays, but that's not why he's here. Simply having him back in Cleveland is enough. Frye has only been on the team for two-and-a-half seasons, but he's one of the most beloved players in franchise history. He keeps morale up by insulting everyone around him in a loving way, and is a great veteran presence for a young team.
The 12-46 record looks bad, but there are some good things happening with this team. The Cavs are certainly in a better position than they were in 2010-2011, and their future will only get brighter once the 2019 NBA Draft rolls around. Enjoy the rest of the break, for there's plenty of intense tanking to be done.