Carmelo Anthony would waive no-trade clause to go to the Cavs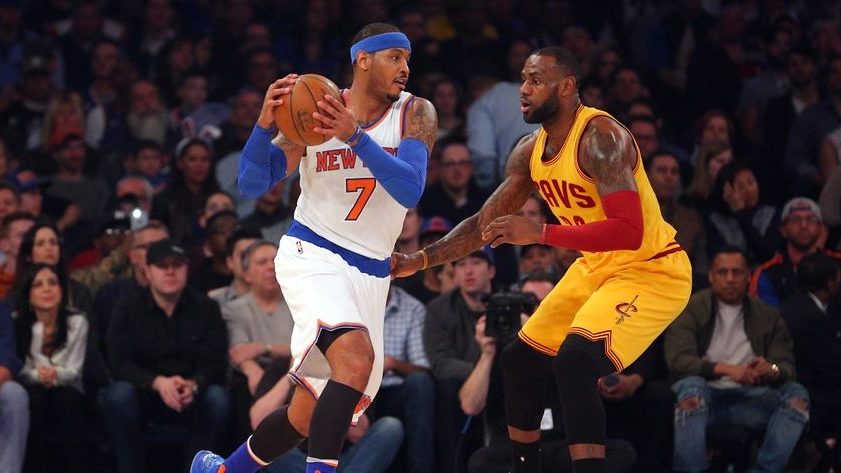 The New York Knicks were projected as one of the power houses that would challenge the Cleveland Cavaliers for their throne in the Eastern Conference before the start of the season, but an indifferent beginning to their campaign has seen the spotlight surround their offensive machine Carmelo Anthony.
The Knicks have struggled to an 18-22 record so far this season, as they sit in an underwhelming 10th place in the eastern conference standings. This is not where the Knicks' front office envisioned their franchise would be when they brought big names Derrick Rose and Joakim Noah to the Garden, as well as handy guards Courtney Lee and Brandon Jennings to join young gun Kristaps Porzingis this past off season. Rose himself called the Knicks a "superteam" before the year tipped off, but they look far from that thus far.
With the negative media attention growing everyday in the concrete jungle, Anthony has found himself under the microscope yet again. After the Knicks fell to the 76ers on the road just two nights ago in which Anthony wasn't involved in the final game winning possession, murmurs have started to surface over the future of Anthony. He was reportedly disgusted after the game winner by T.J. McConnell against his outfit, and the rumor mill has been in full swing as of late. Adding fuel to the fire was Phil Jackson's good friend Charlie Rosen, who claims Anthony would waive the no-trade clause in his contract, but for only two teams in the association – the LA Clippers and world champion Cleveland Cavaliers.
In a column for FanRag Sports, Rosen wrote about Anthony softening his stance on his no-trade clause via cbssports.com.
He's four months away from his 33rd birthday, his contract is humongous and contains a no-trade clause. It's understood that he'd only accept being dealt to the Cavaliers or the Clippers.
These likeable options for Anthony are made realistic on face value due to his friendships with LeBron James and Chris Paul, but Anthony has continually said in the past his heart remains in New York.
Only time will tell, but the Knicks are massively underachieving right now, and if the ball is not finding him come crunch time, expect this speculation to gain momentum in the coming weeks.