Carmelo Anthony speaks on playing with LeBron James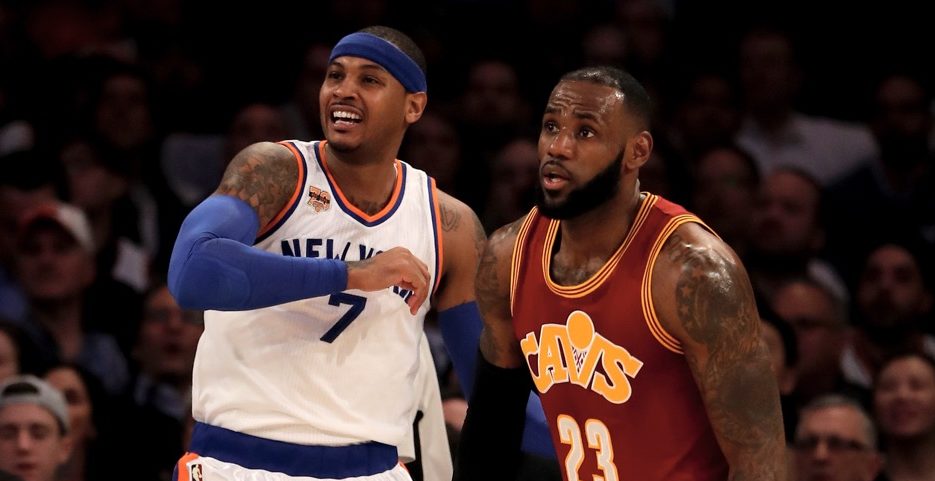 LeBron James' recent profanity-filled rant about the Cavaliers' need for a playmaker has sent shockwaves throughout the NBA. James' frustrated remarks came in a post-loss locker room after failing to complete a come-back effort against the New Orleans Pelicans on Monday night. As a result, the Cavs find themselves as losers in five of their last seven games.
There have been loads of reports indicating which players the defending champions might be interested in, but at this point, it's all just speculation. The NBA trade deadline comes on February 23rd, so teams will be making moves fairly soon.
Carmelo Anthony, New York Knicks forward, was recently included in rumors surrounding a "Melo-to-Cleveland" deal, but that idea was laid to rest earlier this afternoon when ESPN's Ryen Russillo reported that the Cavs "are not interested in trading for Melo". Cleveland simply wouldn't be able to afford a deal for Anthony.
Not surprisingly, #Cavs continue to reject Knicks' attempts to get Kevin Love for Carmelo Anthony, per ESPN.

— Sam Amico (@AmicoHoops) January 25, 2017
Earlier this afternoon, Marc Berman of nypost.com reported that Anthony is unsure of how to interpret James' profanity-laden remarks. Anthony was then asked about James' "playmaker" comment and if he thinks The King would want him on his team.
You ask me a question if he thinks I'd want to play with him?'' Anthony said. "Yes. I do think he'd want me to play with him. I don't think he wouldn't. But I don't know if that comment was about me. I don't think I'm the only playmaker in the NBA.''
Anthony was then asked if he would want to play in Cleveland.
I don't think about it – not something I think about right now. As far as playing with him (James), I don't think about that. I can't think about that. You know I'm not thinking about that."
Anthony, 33, admitted to The New York Post that he would have regrets if he retired without an NBA title. Some think that could be an indication Anthony could reverse course on his re-stated commitment to not waiving his no-trade clause with the Knicks.
Me personally, I wouldn't be satisfied with it,'' Anthony said. "It's something I'll always think about – coulda, shoulda, woulda. I'll answer that when my career is over with. It's hard to answer that when you're in midst of your career."