AFP
We're only a half month into the 2014-15 regular season, but there are already a horde of random as well as old rumors that were brought up. From Kevin Love to Kyrie Irving to both, here's a look at the top rumors and stories going around as well as why Cavs fans should or should not be worried about them.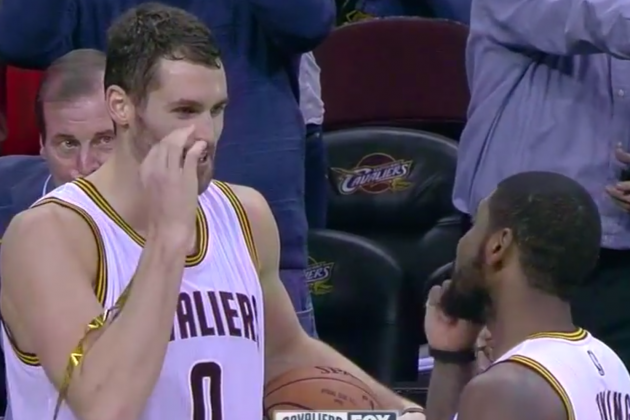 Kevin Love and Kyrie Irving's Misleading Handshake?

Following the 118-111 home victory over the New Orleans Pelicans, Kyrie Irving and Kevin Love exchanged a celebratory handshake that looked a tad bit inappropriate for some viewers at first glance.
For many viewers, it looked as if Love and Irving smoked an imaginary joint at the end of their handshake. When asked about it, Love had this to say:
"I mean, I don't know why it was so hard for people to realize that we were actually curling out mustache. I guess because I had my fingers in the wrong place. Looking at the tape – film don't lie – it looks like we are doing something bad but that wasn't the case."
If Love's answer isn't convincing enough, Kyrie Irving was also asked about it. Seemingly confused as to what people were assuming when they saw the handshake, Irving's answer when asked about it should clear up the whole thing up. "That was an issue? Oh, I wasn't aware [people were talking about it]. Sorry. It's a simple twist of our mustaches. I guess Kevin's hand got a little wild there. But for us, it was literally just a twist of our mustaches, a handshake that we do. It may be close to our lips, but it's just a little twist of our mustaches. That's it. Does that clear it up?
"Oh yeah, we're going to do it more now," when asked if they're going to continue doing the handshake. With both Irving and Love strongly denying any inappropriate gestures in their handshakes, it's become apparent that they truly had no bad intentions and the camera just seemed to catch a bad angle of the handshake.
Getty Images
Kevin Love to opt out?

On Monday, November 10 during the Cavs morning shootaround, rumors starting flourishing among social media and sports news that the All Star power forward for the Cleveland Cavaliers, Kevin Love, is seriously considering opting out of his contract at the end of the 2014-15 season in favor of becoming an NBA free agent. Furthermore, there's speculation that he'd be greatly interested in going back to the city where he played his college ball to play for the Los Angeles Lakers. But at this point, this is really only one thing: speculation. Here's the exact quote:
"It's not going to get as much discussion during the season, but one of the biggest issues for the Cavs is that both LeBron James and Kevin Love own opt outs after this season. LeBron James basically cannot afford to go anywhere after his return to Cleveland. But watch out for Love. Indications are he will seriously consider the opt out and has his eyes on a return to Los Angeles, where he attended college and where the Lakers long have had him on their free agent list."
Let's get one thing straight: the source of these outrageous claims, to no one's surprise, is a writer for Bulls.com. That's right, plain speculation from an NBA writer for the Chicago Bulls, likely in an attempt to stir some controversy and talks among fans of the NBA.
Although Kevin Love and the Cavs had a handshake agreement on his long-term commitment to Cleveland, many already expected him to opt out of his current contract. Love would be walking away from more money if he didn't opt out no matter where he ends up playing. Due to the new television deal that the NBA struck with ESPN and Turner Sports, the salary cap that is currently set $63 million for the 2014-15 season, will jump to approximately … Just like Love, LeBron James is also expected to cash in on the new deal, which is why he signed for a 2 year deal with the 2nd year option to opt out.
James has likely prepared his new teammates for the onslaught of media coverage and let them know they'd be subject to a lot of media speculation. After all, he knows firsthand just what the papers and websites are capable of. When our very own LeBron James was in the final year of his contract as a Cavalier back in 2009-10, he was asked about free agency nearly every chance he was available to the media. He finally shut them down by absolutely neglecting the topic until the right time to address it had come. The same happened during what would be his final year as a member of the Heat. This is the same media guesswork and speculation at its best.
Players who are in the last or second-to-last years of their contracts with opt out options are almost always subject to trade as well as free agency rumors and speculation. The most victimized player in recent time would be Rajon Rondo, who's been speculated to land in about half of the NBA's teams in different trade situations albeit insisting he's sticking with Boston for the long run.
Prior to Friday's game against the Celtics, Love refuted any rumors that he was hinting at going towards Los Angeles, where he played his college ball at UCLA, to join the Lakers.
"Going to the Lakers, no, that's not true. I don't know where somebody got that," Love summarized for the media during the Cavaliers' morning shootaround. "Whatever [people assumed] we were doing with our hangs was about as true as me going to the Lakers."
The Cleveland Cavaliers are widely expected to make it to the Eastern Conference Finals unless something goes drastically awry and even the NBA Finals if he meshes well with his new All Star teammates. Love has repeatedly said that he wants to win, wants to experience the playoffs, and wants to play with known winners. He is going to be an All Star, going to be in the playoffs for the first time, and is going to endure some struggles as he adjusts to being on a winning team with Cleveland. Why would Love leave everything we wanted, here as a Cavalier, to go to a rebuilding team with an aging superstar in Kobe Bryant and a group of young role players? Although it shouldn't be ruled out since he could be an unrestricted free agent, it just doesn't make any basketball sense for Love.
Kyrie Irving for Rajon Rondo?

For a while now, a trade was possibility was thrown around that could involve 2 of the NBA's best point guards; a trade that would move Cavaliers' point guard Kyrie Irving to Boston in exchange for Celtics' point guard Rajon Rondo. This trade was merely suggested by ex Magic and Rocket shooting guard Tracy McGrady and there isn't any evidence to show that there were even talks between the Cavs and Celtics regarding these two players. McGrady suggested that Rondo's pass first mentality would be a good fit for the Cavaliers.
Bron, go get Rondo out of Boston!

— Tracy McGrady (@Real_T_Mac) November 6, 2014
Kyrie Irving just signed a max extension with the Cavaliers over the summer, just prior to James' announcement of his return to Cleveland. Rajon Rondo is in the last year of his contract with the Celtics and has been the subject of every possible trade rumors you could think of. Whether it be media speculation, league sources, or legitimate interest, Rondo has rumored to end up in LA with the Lakers, the Houston Rockets, possibly the Sacramento Kings, and very often with the New York Knicks. All of those teams except for the Lakers are up and coming teams, many at the end of a rebuilding phase simply missing a key player to put them over the top.
Although both the Celtics and Cavaliers could possibly work out a successful financial transaction in the swapping of the 2 point guards, Cleveland would never even consider trading a guy like Irving. Irving is not only a better offensive player than Rondo, but he's constantly improving the other aspects of his game, not to mention he's 6 years younger than Rondo. Don't worry Cavs fans, Kyrie Irving is in the Cavs foreseeable future, hopefully for his entire NBA career.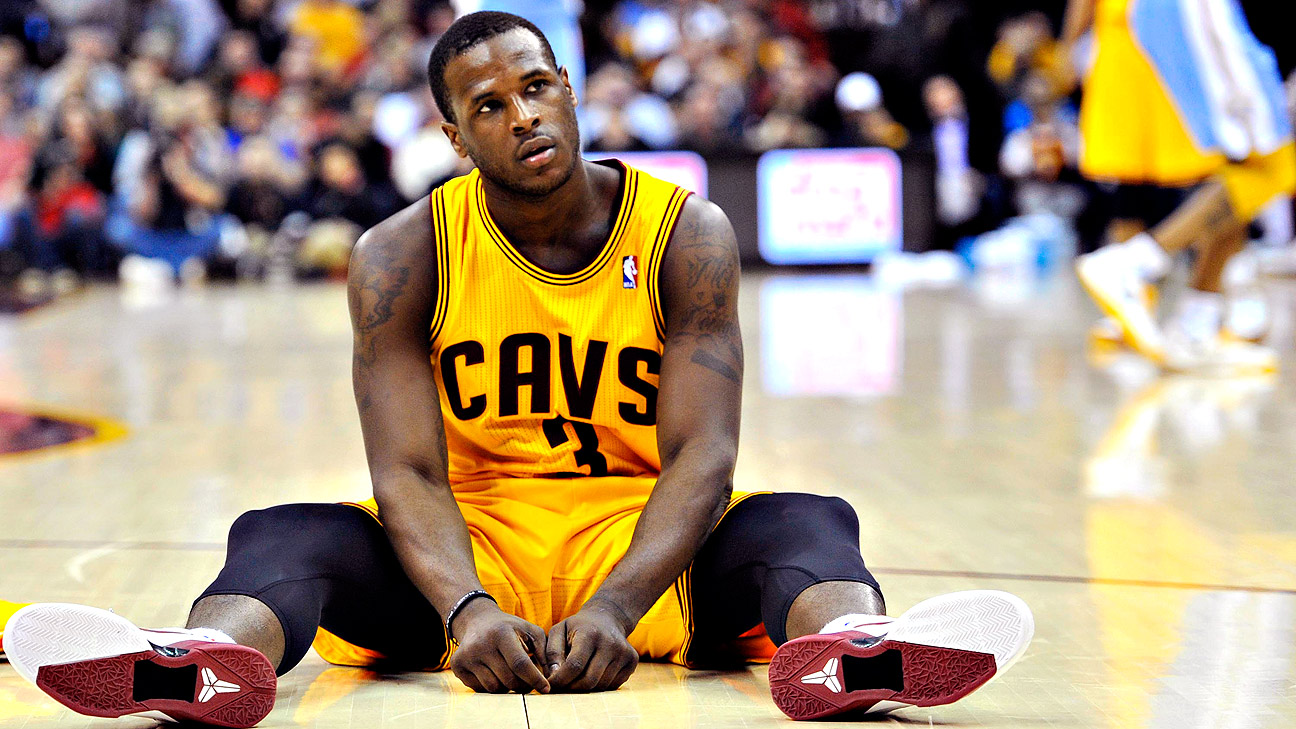 Dion Waiters Trade Rumors

Many were quick to judge the Cavaliers' 1-3 start, but after winning 4 straight games, the Dion Waiters trade rumors seemed to subside. Once the Cavaliers lost to the Denver Nuggets on Monday night, the rumors once again arose from out of nowhere. It seems as if whenever the Cavaliers lose, someone is going to have to take the blame and someone should be traded. David Blatt didn't get his team ready, James has to be a better leader, Waiters just doesn't fit with this team and he needs to be traded. Often times, The opposing team simply played better basketball than they do, and all they can do is learn from it and move on.
That being said, Dion Waiters is regarded as the one of the most valued players on the Cavaliers and the one who is most likely to be traded if they wanted to make a move. Prior to the season, the Cavs were considered landing spots for frontcourt players like Roy Hibbert of the Indiana Pacers, Timofey Mozgov and JaVale McGee of the Denver Nuggets, and Emeka Okafor, previously with the Suns but didn't play last year because of a severe neck injury that luckily isn't expected to be career ending. Also mentioned in multiple trade scenarios for Waiters would be Knicks' guard Iman Shumpert. Waiters has been linked to the Minnesota Timberwolves, Philadelphia 76ers, Los Angeles Lakers, Indiana Pacers, Denver Nuggets, and New York Knicks in random trade gossip.
There's no denying that Cleveland needs another frontcourt player on their roster, especially one who can protect the rim, something the Cavaliers have been absolutely dreadful at doing. If the Cavaliers are indeed going to pull a trade for one of those players or a big who can defend the rim, it seems as though Dion is the likely one to go along with the $5.3 million trade exception the Cavs received with the Keith Bogans deal.
So far, Waiters is the sixth man for the Cavaliers and is playing well despite the occasional limited playing time. He is making the most of it and is getting in on the ball sharing just as Irving has. Dion has even told reporters that he wants to win the NBA's Sixth Man of the Year award this season. When LeBron James announced his arrival, he mentioned that this process would take time, so maybe everyone is just overreacting to some rough play. Clearly, the Cavaliers value the young talent in Waiters as much as the rest of the league does, and they know that he can blossom into a borderline star with James as his teammate. Any rumors of Waiters being traded should be highly disregarded at the moment as the Cavaliers as well as Waiters are playing well despite the slow start to the season and are still learning as the season progresses.
David Richard-USA TODAY Sports
Interest in Corey Brewer?

Over the past couple of days, the Minnesota Timberwolves were reportedly shopping defensive-minded small forward Corey Brewer. The only teams mentioned in the discussion with the Wolves were the Cavaliers and Houston Rockets.
With Shawn Marion, who was brought in to be LeBron James' backup, in the starting lineup for the Cavs, there is no one on the roster who can play meaningful minutes while backing up James. James is playing 39.1 minutes a game, and as the season goes on, head coach David Blatt will definitely want that number decreased to around the 35 minute range. The 4 less minutes may not seem like a big deal, but for a player's fatigue, it can mean the difference between coming into the 4th quarter ready to lead your team and entering the 4th a little fatigued.
A trade that brings Corey Brewer to the Cavaliers can certainly be a positive depending on who or what the Cavaliers send in exchange for him. Corey Brewer is making $3.42 million, so the Cavaliers can pull this trade off without giving up any of their immediate assets thanks to the $5.3 million trade exception they received later in the offseason. Brewer brings a defensive presence at the guard/forward spot, can be aggressive going to the basket, can hit the outside shot, and the previous experience playing with Love would be an added bonus for the Cavs. At the moment, everything is just a report and a trade is currently not imminent, but there are talks about making a 3-team deal in order for the Cavaliers to acquire either Brewer, Nuggets C Timofey Mozgov, or possibly both. This all sounds doable, but the buzz was quickly killed by Minnesota:
Flip on Brewer: he's just too valuable to us to move. Says he understands why teams with championship hopes want him

— Jon Krawczynski (@APkrawczynski) November 20, 2014
There you have it. Most rumors orbiting the Cavaliers are imaginative, and the situation is never as controversial as the media portrays it. For all rumors related to Cleveland, Cavs Nation will investigate until the truth is found.