Cleveland Cavaliers great John "Hot Rod" Williams is in need of prayers and support.
RELATED: The Best Jerseys In Cleveland Cavaliers History
The 6'11" retired NBA player who endeared himself to Cavalier fans after playing nine seasons in Cleveland is currently on life support as he fights his biggest battle with cancer. Terry Pluto of The Plain Dealer reported on this news after his talk with Williams' agent, Mark Bartelstein.
"I have some bad news," Bartelstein said Tuesday night.

"Hot Rod," I said.

"Cancer," said Bartelstein. "It's bad. Real bad."
Pluto went on to share Bartelstein's comment on how Williams treasured his stint in Cleveland.
"John loved playing in Cleveland," said Bartelstein. "He played a few years after leaving the Cavs, but he always thought of himself as a Cavalier."
Bartelstein began talking about the Cavs from that era…
Mark Price … Brad Daugherty … Larry Nance … Craig Ehlo … Ron Harper
"John loves those guys," said Bartelstein. "They were such an outstanding team."
Some of Williams' former Cavalier teammates took to Twitter to express their thoughts on their beloved contemporary.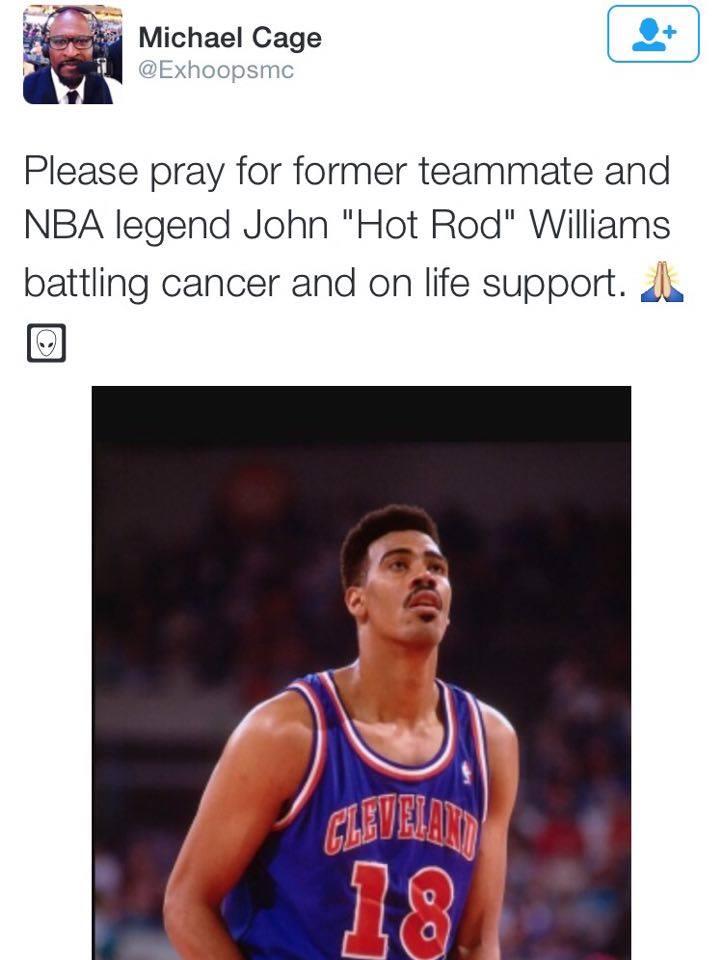 Williams was the epitome of a great teammate. He did the dirty work and also the little things that led to opportunities for his running mates. In nine seasons as a Cavalier, he averaged 13 points and 7.1 rebounds per game.