Bradley Beal on playing the Cavaliers: We're coming after them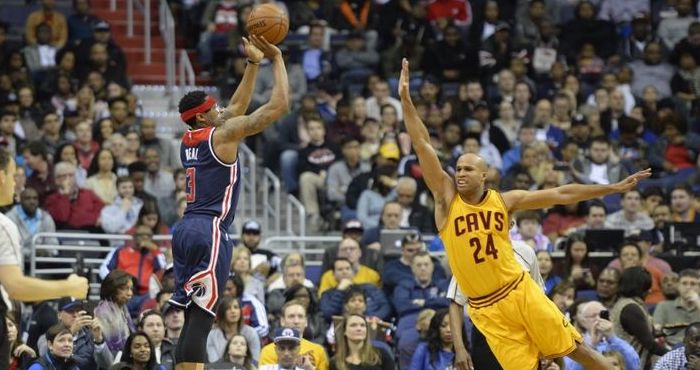 One of the hottest teams in the NBA right now are the Washington Wizards. After their slow start to the season, they have won 27 of their last 38 games, including 17 straight at home. On Sunday, they will face the Cleveland Cavaliers, owners of the best record in the East.
When asked about his thoughts on the matchup, Wizards shooting guard Bradley Beal told J. Michael of CSN Mid-Atlantic that his team are not backing down from the challenge, and are excited to play against the defending champions.
"It's on, for sure. We're climbing in the rankings. We're going to keep climbing. They're a targeted team with a big red X on their back and we're coming after them, too. We're excited. We're amped up about it. I'm definitely excited because I didn't play the first game."
John Wall also voiced out his anticipation about the game. Although he admitted to playing poorly against the Cavaliers last season, he thinks it's a different story now. The Wizards are playing well, and are geared towards their goal of reaching the success their opponents on Monday have achieved the past two seasons.
"I was playing bad last year. This time we're playing better. That's the best team you have to go get. They're the best team in the East. They've been to two straight (NBA) Finals. They won the championship last year so we know what the ultimate goal is. That's what we're trying to strive to get."
The match is expected to be a highly-contested one as the season series winner will have a mental advantage should they meet again in the playoffs. It will be the second game the teams will play against each other this season, with the Cavs winning back in November, 105-94.
Winning against the Wizards will not be as easy for the Cavaliers this time around, they're a different team now and one of the league's best when playing at home.