Though they aren't playing right now, the Cavs are still searching for ways to improve their roster. The team is rumored to be interested in a trade for Sixers All-Star Ben Simmons, but will such a deal come to fruition, and what would it take?
Over the weekend, Chris Fedor of cleveland.com reported that the Cavs have been keeping an eye on the proceedings with the Sixers from afar. One NBA executive told Fedor that Philly (currently sixth in the East) may have to make a difficult decision in the near future. If the Sixers are faced with an early playoff exit, the executive believes the team will choose between a future with Ben Simmons or Joel Embiid. A tough decision, to be sure.
The Cavs may have interest in Simmons, but Philly won't let the former No. 1 overall pick go for a bag of shells. The Sixers will want serious compensation for a player of his caliber, be it in the form of players, picks or cash. Still, Cleveland believes it has enough assets to offer "an enticing package," according to Fedor.
"The Cavs believe they have enough to assemble an enticing package, especially with recent first-rounders littering the roster, a top six pick coming in October and a future first from the Milwaukee Bucks," Fedor wrote.
Here are some possible trade scenarios.
Kevin Porter Jr.
The Cavs got Porter with the the 30th pick in the 2019 NBA Draft after giving up a stash of draft picks. The team has been impressed with his development, and it sounds like they aren't interested in dealing him at this time.
While it's true that the Cavs are fond of Porter and his development, including him in a deal for Simmons would likely garner a fair amount of attention from the Sixers. At 6-foot-4 and 215 pounds, the USC product has already proven that he can be a capable scorer in the NBA, and he still has a lot of room to grow.
Cleveland also has a high draft pick coming in October and a future first-round selection from the Milwaukee Bucks that could be used to sweeten the proverbial pot. It doesn't mean Philly would pull the trigger on such a deal, but an offer centered around Porter and picks might be enough to get the conversation started, with other salary needed to get thrown in to make the money work. Larry Nance Jr., Dante Exum and Cedi Osman are all making a decent amount of money, so those are some names who could be included.
Darius Garland, Collin Sexton
For good reason, Garland is another player the Cavs have been high on. The former Vanderbilt star was given a starting point guard role shortly after being drafted with the fifth overall pick in 2019, sending second-year guard Collin Sexton to the shooting guard position. As a result, Cleveland has been playing a dual point guard lineup, with either Garland or Sexton running the offense. Garland usually runs the point, but there are also times when Sexton is the primary distributor on the floor.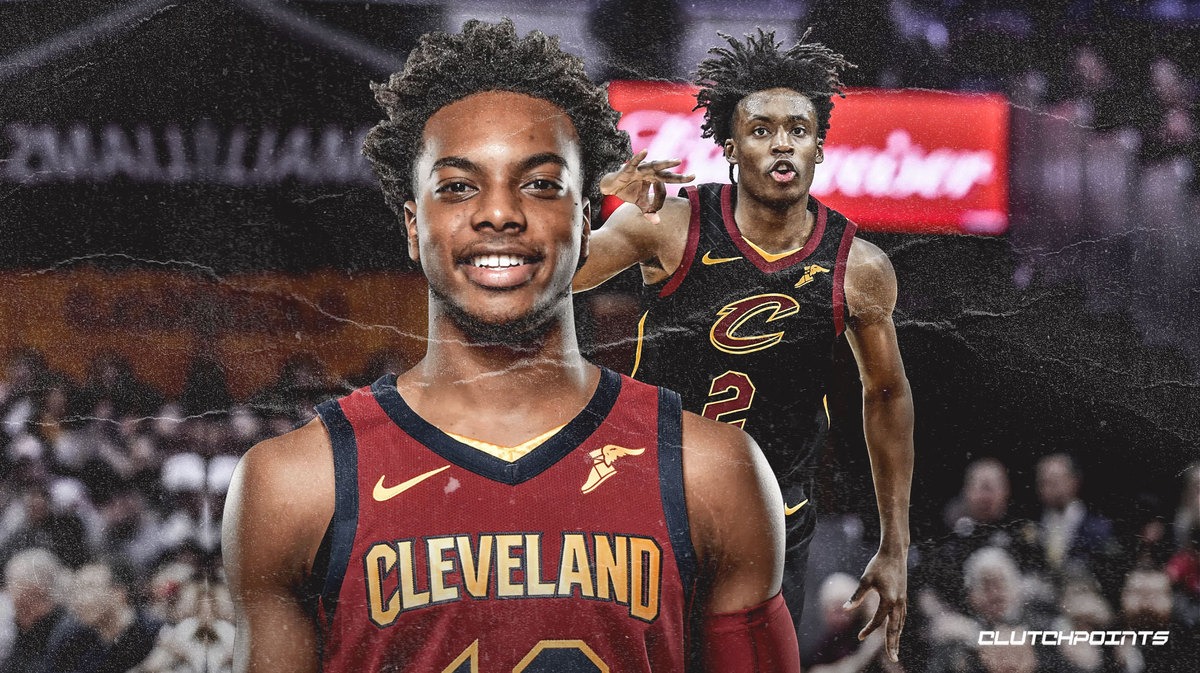 The Sixers would obviously want more than just Garland or Sexton in a deal for Simmons, though. This is where Cleveland's future picks might come in handy again. The Cavs have the second-best lottery odds, but the team could easily end up picking as low as No. 5 (27.8 percent) or No. 6 (20.0 percent). They have a 14.0 percent chance at the No. 1 pick and a 52.1 percent chance at a top-four selection.
Will the Cavs continue stockpiling picks and young talent, or will they be interested in dealing?
Kevin Love
Love has heard his name tossed about in trade rumors for several seasons, yet he has remained with the Cavs. In fact, the five-time All-Star signed a four-year, $120 million extension with the team in July 2018. Through 56 games played this season, Love turned in averages of 17.6 points on 45.0 percent shooting from the field (37.4 percent from beyond the arc), 9.8 rebounds and 3.2 assists.
Love to the Sixers may seem like a strange concept. However, Love and Embiid could prove to be an interesting combination of bigs and an intriguing idea for Philly if the franchise wants a proven talent back in a trade. Both are excellent on the glass, and Love's stroke from the perimeter would create headaches for a lot of teams. Heck, even Embiid is taking some outside shots these days.
The Sixers would obviously want more than just a straight-up swap here. Simmons is a 24-year-old All-Star, while Love is past his prime at 31 years old. So, Cleveland would have to include more assets, whether it's in the form of a young player or draft pick, if not both.
Philly would also likely look to swing at least one other big trade if Love was brought in, whether it be flipping him elsewhere or looking to deal Tobias Harris or Al Horford. The Sixers could use help in the backcourt, so another trade would be needed to balance out the roster.
For Cavs fans, Love's departure would be a somber moment, as he's one of the last remaining vestiges of the team's 2016 championship.
Show me the money
The Cavs are slated to shell out roughly $78.4 million in guaranteed money for the 2020-21 campaign, and they'll likely add Andre Drummond's $28.75 million player option to that total. This means Cleveland will not have much cap space this offseason. However, the team should be able to keep its full mid-level and bi-annual exceptions. And furthermore, the Cavs will likely be below the luxury tax threshold — a statement that went unheard during the LeBron James era.
With a 19-46 overall record, the Cavs struggled to find any sort of rhythm this season. And as a member of the so-called "Delete Eight," the team is currently watching the resumption of the 2019-20 campaign from outside the NBA's bubble in Florida. That doesn't mean owner Dan Gilbert is sitting idly by, though, and the Cavs could look to make a big splash by trading for Ben Simmons.