Report: Andrew Bogut not a lock to sign with Cavs, still exploring his options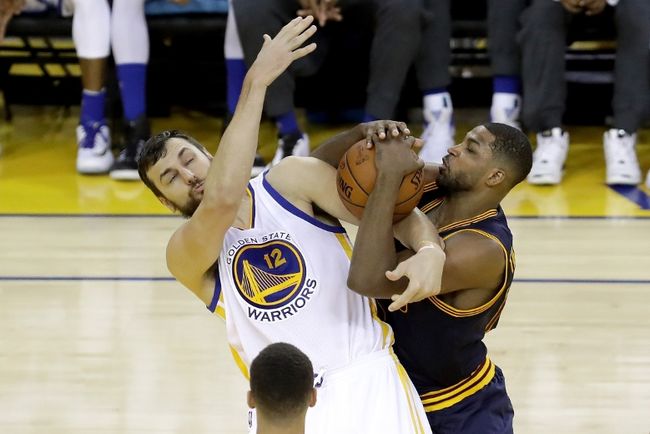 Apparently, Andrew Bogut is not a lock to sign with the Cleveland Cavaliers and is still exploring his options.
Bogut and his agent recently reached a buyout agreement with the Philadelphia 76ers. Now, the true seven-footer is receiving interest from several teams around the NBA, including the defending champion Cavaliers.
According to TNT's David Aldridge, Bogut is waiting until at least tonight to make a final decision on his next landing spot. Aldridge reports that Bogut wants certainty with regards to his role on the teams seeking his services. It seems he just wants to weigh all of his options
Andrew Bogut decision not expected until tonight at the earliest as he talks w/teams, per source. Wants certainty on role w/contenders.

— David Aldridge (@daldridgetnt) February 28, 2017
Over the course of his 12 year NBA career, Bogut, a 32-year-old former number one overall selection in the 2005 draft by the Milwaukee Bucks, has averaged 10.0 points, 8.9 rebounds, 2.3 assists, and 1.6 blocks in 29.1 minutes per game.
While Cleveland is the expected favorite in the race for Bogut, multiple reports surfaced yesterday stating that he is being pursued by as many as five other teams, including the the Boston Celtics, San Antonio Spurs, and Houston Rockets.
Earlier today, ESPN's Brian Windhorst reported that Bogut may not be a lock to sign with the Cavs. However, he also said that he feels confident the champs will be able to come to an agreement with the Australian-born big man soon.
Windhorst: Andrew Bogut is not a lock to sign with Cleveland but the Cavs feel good they can get a deal done in the near future.

— ESPN Cleveland (@ESPNCleveland) February 28, 2017
If the Cavs are indeed able to bring Bogut to the Lake Erie shoreline, they'll have one of the most formidable lineups in recent NBA history. As always, keep your browsers locked on Cavs Nation for more information as it becomes available.