All of LeBron James' NBA Finals opponents had better net efficiency ratings than Michael Jordan's Finals opponents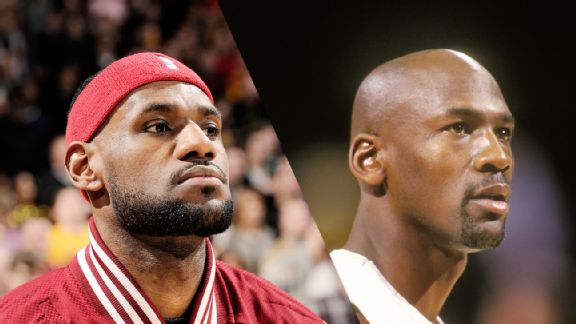 The on-going debate between LeBron James and Michael Jordan as the undoubtedly greatest basketball player of all-time has seemingly tipped into the latter's favor once more following James and his Cleveland Cavaliers' latest loss in the 2017 NBA Finals.
However, as ESPN Stats and Info recently pointed out, there's one compelling statistic that puts James' Finals performances under a different light:
Each of LeBron James' 8 NBA Finals opponents had a better postseason net efficiency than the best team Michael Jordan ever faced. pic.twitter.com/59xieJavNd

— ESPN Stats & Info (@ESPNStatsInfo) June 14, 2017
The main argument for Jordan's supporters is that MJ went a perfect 6-0 in the Finals, whereas LeBron has gone a mere 3-5 in eight trips. But what's been relatively overlooked until now is that LeBron's had steeper uphill battles in all eight of his Finals appearances compared to Jordan's six with the Chicago Bulls.
This insight in defense of James should also serve as a portrait of two legends being products of totally different eras. The NBA shifted towards a more high-scoring, efficiency-oriented form of basketball for the greater part of the past decade, with James eventually serving as its ultimate individual benchmark and with the entire league seeing an influx of big men who can shoot basically from anywhere from the perimeter. Jordan, on the other hand, was the one indomitable offensive guard during his time when NBA teams prioritized size and strength in the post for the bulk of their offensive production.
The debate as for who's the real GOAT between The King and His Airness won't be put to rest anytime soon, especially with James having a few more seasons left in his career to prove that he's definitely worthy of that distinction. Having faced much tougher opposition in the Finals than Mike shouldn't be taken as a viable excuse, but it's also hard to ignore the levels of difficulty that LeBron has gone through in the Finals to achieve his current, highly-esteemed status.