LeBron James asked to compare his 2017 team to the 2016 champions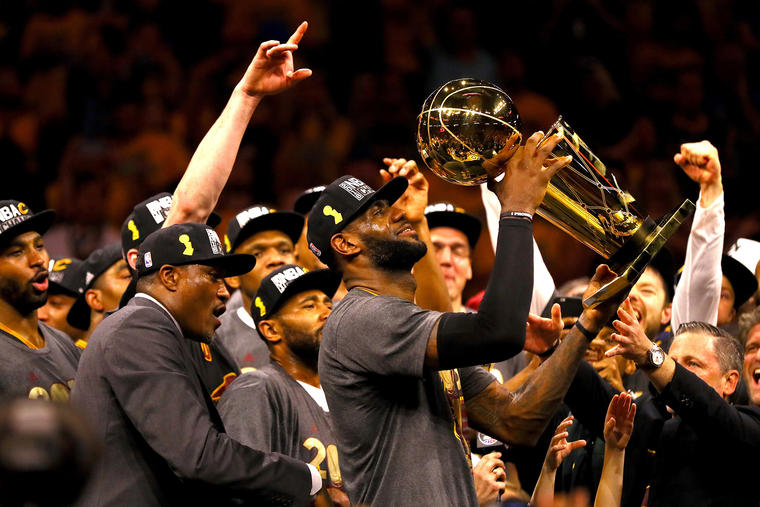 With the acquisition of Andrew Bogut, are the Cavaliers better than last year? LeBron Answers.
Together, Cleveland Cavaliers General Manager David Griffin and team owner Dan Gilbert, have compiled one of the greatest NBA rosters we have ever seen. The recent acquisitions of Kyle Korver, Derrick Williams, Deron Williams, and now Andrew Bogut, places the Cavaliers in prime position to defend their championship crown. So, with their roster nearly set for the remainder of the season, are the Cavaliers better than they were last year?
Via Joe Vardon of cleveland.com:
"We don't know," LeBron James told cleveland.com during Wednesday morning's shootaround in Boston. "We can't say that — (the) 2016 (team) won a championship. For the most part we had some little nicks and bruises but we was whole for the most part last year, so, only time will tell."
While James is correct about being healthy down the stretch last year, it must be noted that Kyrie Irving and Iman Shumpert missed the majority of two months at the beginning of last season due to injuries.
This season, the Cavs are dealing with quite a few injuries, including J.R. Smith's fractured right thumb and Kevin Love's knee. Both are expected to be ready in time for this year's playoff run.
A source close to the Cavs tells cleveland.com that Bogut, who committed to sign with the team last night, will not sign today. Most expect the seven foot rim protector to officially sign sometime before Saturday.
Inevitably, Bogut's arrival will spell the departure of someone on the Cavs' roster.  Vardon reports that either Jordan McRae or DeAndre Liggins, who were both at shootaround this morning, could be waived to make room on the roster for Bogut.
All of these additions to the team means there are a lot of new faces in the locker room. Tyronn Lue, Cavs Head Coach, feels confident in their ability to work together.
"Yeah, we're pretty deep and the biggest thing is just trying to get everyone to mesh together and who plays well together and who doesn't," Coach Lue said. "So that's going to be the biggest challenge the next few weeks, especially getting J.R. (Smith) back and then with Kevin (Love) coming back. So, it's going to be a process but I'm pretty sure we can figure it out."
Vardon asked James if adding Bogut to the fold brings any insight into the mindset of the Golden State Warriors. The King knows a run at the Larry O'Brien trophy is a long journey, and isn't taking anything for granted.
"You guys are so fascinated by a Cleveland-Warriors matchup, but that's discrediting the rest of the league," James said. "We don't play them no more for the rest of the season. We're fortunate enough to even get through the East. If they're on the other side, then we'll see what happens then."