It may be unlikely, but the Cleveland Cavaliers have at least shown some interest in trading for Timberwolves star Jimmy Butler.
While Butler is looked at by many as a rental, as he will be an unrestricted free agent after the season and will demand a max contract, bringing him to Cleveland could have a much larger impact than just adding another All-Star to the team. Butler is close friends with former Cavalier Kyrie Irving, who also happens to be a free agent next year. The two have been rumored to be very interested in playing with each other on a new team, and perhaps that team could be the Cavs.
Before worrying about convincing Irving to return, Cleveland would first need to swing a deal for Butler. Determining a fair price isn't the easiest thing to do, as Minnesota is asking for quite a bit.
ESPN Reporting w/ Zach Lowe: Minnesota's asking price for Jimmy Butler remains too steep for teams. Minny seeks quality vets/top prospects/future assets/cap relief. Too high a price for interested teams, including Miami. Sources are skeptical of Thibodeau's desire to make deal.

— Adrian Wojnarowski (@wojespn) September 27, 2018
The eventual package will be closer to what the Pacers received for Paul George as opposed to what the Cavs got for Irving. Irving had an extra year on his contract, was a better player than Butler, and was over four years younger. George was better and two years younger. The Timberwolves obviously won't get all of what they're asking for, but the Cavaliers will have no shot at landing him if they lowball Minnesota. Other teams have far more to offer, so Cleveland needs to make the deal about what they can take.
The Timberwolves are currently $18 million over the salary cap. They have just signed Karl-Anthony Towns to a five year max extension. Taj Gibson will make $14 million this season, with Jeff Teague earning $19 million, with a player option for next season which will pay him the same amount. Gorgui Dieng is owed nearly $49 million over the next season, and Andrew Wiggins almost $82 million over the same time period.
The biggest problem is Dieng's contract. He is being paid like a higher-end center, when is just a solid backup. For a contending team like Minnesota, the money he is owed can be spent more wisely elsewhere.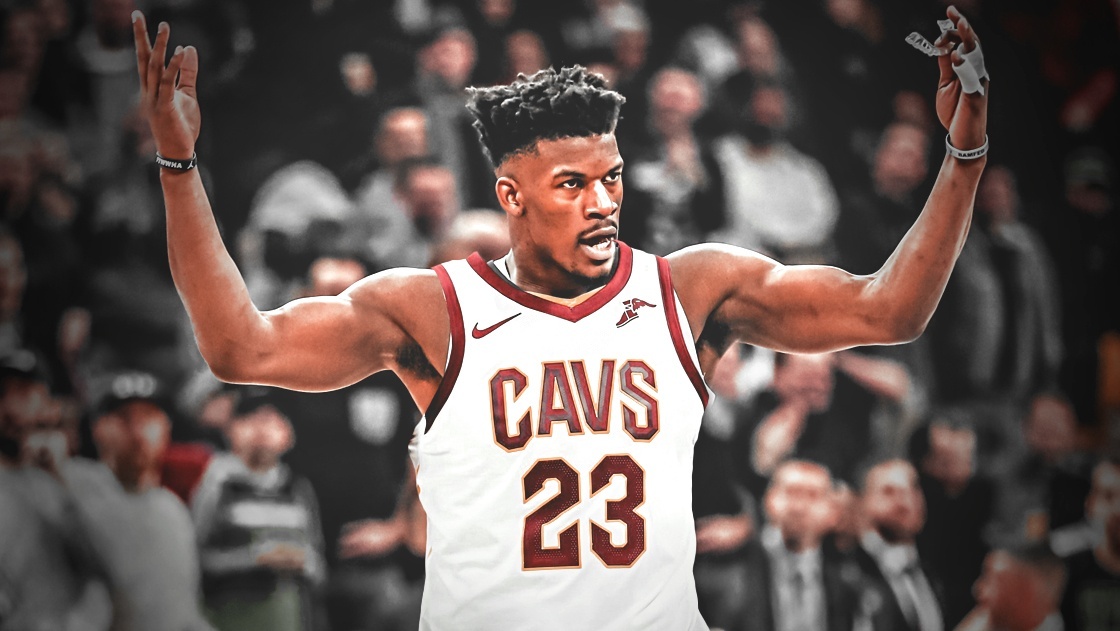 The Cavaliers have quite a few expiring contracts, which can be used to match both Butler and Dieng's salaries while providing the Timberwolves with some much-needed cap relief. The problem will be persuading Minnesota to accept the package of players that Cleveland offers, which won't be all that great.
Minnesota receives: PG George Hill, SG Kyle Korver, SG Cedi Osman, SG J.R. Smith, 2020 CLE first-round pick
Cleveland receives: SF Jimmy Butler, C Gorgui Dieng, C Justin Patton
This offer wouldn't blow Minnesota away, but it does meet all of their criteria. Hill, Korver, and even Smith can be quality contributors on a playoff team. Osman can also fill that role, but also has the potential to develop into an All-Star-level player. The future pick will give the T-Wolves another asset to either bring in a rookie, or to facilitate a future trade. Hill and Smith can be released after the season for a fraction of their contracts, opening up quite a bit of space for Minnesota to use to improve their team further.
The Cavs are giving up quite a bit, and taking a massive risk. Butler could sign with a different team after the season, leaving Cleveland without their second-best prospect and down a first-round pick. However, for this season, a starting lineup of Collin Sexton/Rodney Hood/Jimmy Butler/Kevin Love/Larry Nance Jr. looks pretty solid. With a deep bench, that team would certainly be a playoff contender, and could even win a first-round series.
If Butler decides to stay in Cleveland, he would be eligible for a four-year contract worth $35 million per year. With his deal on the books, the Cavs would be at $119 million for the 2019-2020 season, leaving them $10 million over the cap. This wouldn't leave them any cap space to sign a marquee free agent, such as Irving.
However, a small loophole in the CBA could allow them to work something out. If the Cavaliers trade for Butler, they will inherit his bird rights, meaning that they can go over the salary cap in order to re-sign him. However, if they do not renounce his rights, his previous salary will still count against the cap, until he signs his new deal.
The CBA FAQ outlines a situation similar to this. In 2015, Kawhi Leonard's contract was up, and he would be re-signed by the Spurs. His salary only counted $7.6 million against the cap, even though he would certainly be re-signed for much more. This allowed the Spurs to sign LaMarcus Aldridge before re-signing Leonard.
This means that at the start of free agency in 2019, Cleveland's payroll would total $102 million, $7 million under the cap. That's still not enough to sign Irving to a max deal, but if the Cavs were able to shed the contracts of Tristan Thompson or Jordan Clarkson, they may have a chance.
To do this, they would have to offer picks and players to other teams, meaning Ante Zizic and Collin Sexton would probably need to be parted with. It would be sad to say goodbye to all three of the Cavaliers top prospects, but in return, they would be adding both Kyrie Irving and Jimmy Butler to a roster that already includes Kevin Love. That's a Big 3 that can certainly compete in the Eastern Conference.
Is this scenario realistic or in the best interest of the team's future? Probably not, but it's still interesting to consider. Although Irving seems content to remain in Boston long-term, perhaps there is a chance he will return to Cleveland at some point in his career. It just probably won't be along with Butler.