The stage is now set for the Cleveland Cavaliers to to take on the Golden State Warriors in the NBA Finals for the fourth consecutive year. This current Cavs team is thought by many to be the worst during that stretch, but LeBron James has willed his squad through a tough Eastern Conference playoffs.
Meanwhile, the Warriors struggled against the Houston Rockets before eventually coming out on top thanks to an abysmal shooting performance from Houston. Golden State will be favored in most, if not all of the games in this series. They are expected to take home their third Larry O'Brien trophy in four years, but they can be beaten if Cleveland follows these seven (easier said than done) steps.
7. Don't rely on the three-pointer
"Live by the three, die by the three" is a sentiment that has been repeated over and over since the Warriors beat the Rockets 101-92 in Game 7, and Houston died a slow, painful death.
In the rubber-match, the Rockets shot 7-of-44 from beyond the arc, or 16%, including an NBA playoff record 27 straight missed three-pointers. Houston wasn't able to put any space between themselves and the Warriors because they kept missing shots, and once Golden State went on a run, the Rockets couldn't stop the avalanche.
The problem is that the Rockets are a better and more consistent three-point shooting team than the Cavaliers. In their win against Boston in Game 7, Cleveland shot 9-of-35 or 27%, on threes. That's simply not good enough, and the only reason it didn't doom them is because Boston went 7-of-39 (18%) from deep.
The Cavs have to be able to hit the three in order to have offensive success, so even if they are struggling as a team, they can't afford to abandon it completely. But, if that happens, they also cannot blindly keep chucking up shots from beyond the arc.
The focus should shift to scoring in the paint. George Hill, LeBron James, Kevin Love, and Jeff Green are all at their best when they are close to the basket. Coincidentally, those are Cleveland's four most important players.
The Warriors' biggest weakness is their interior defense, so the Cavs have to exploit that. If they are having success on drives, the perimeter will open up and perhaps some shooters will be able to knock down crucial threes.
6. Win on the fast break
The Warriors demolished the Rockets in fast break points in Game 7 of their series, 23-6. This key will coincide with the fourth one on this list, and it is extremely important. When the Warriors are on the fast break, they are incredibly dangerous because nearly every player in their rotation can either drive to the basket for a layup or fall back for an open three. Because a defender has to be prepared for either decision, it's easier for the Warriors to get an open three, especially when a defender is too aggressive and over-pursues
One of the Cavs' strengths is in transition, as their 16-3 advantage over the Celtics in Game 7 proves. Cleveland's strategy should be to limit the number of fast break chances that Golden State gets, and when they are forced to play the Warriors in transition, always defend the three-point line. It's likely that the Warriors will score in transition, so you might as well save a point.
5. Don't lose opponent on switches
This may be the key that the Cavs struggle the most following. One of the biggest reasons Houston was able to hang around for so long in games was their defense. All of their players were active and aggressive, and they didn't lose their assignment when the Warriors set screens. Even so, Golden State had many players wide open for three-pointers after picks, and they made the Rockets pay.
Cleveland is a significantly worse defensive team that Houston is, and that's bad news for Cavs fans. We've seen this for the past three years and it's unlikely to change this time. The Warriors' ball movement is always great, and just when you think the Cavs have forced Golden State into taking a bad shot, a screen is set and Klay Thompson or Stephen Curry is wide open in the corner.
The coaching staff is going to have to make the defensive strategy abundantly clear, and the playoffs will have to strictly follow it. The Cavaliers cannot afford to give the Warriors easy shots.
4. Don't turn the ball over
In Game 7, Houston turned the ball over 12 times, leading to 18 extra points for Golden State, many in transition. James Harden made quite a few bad passes late in the fourth quarter which derailed the Rockets' comeback attempt.
Turnovers are something that Cleveland has struggled with, as they gave Boston 13 extra possessions in their Game 7. The Cavs have to maximize their possessions and cannot give the Warriors more fast break opportunities. Players such as Jordan Clarkson and J.R. Smith have to keep a tighter handle on the ball if Cleveland hopes to keep the games close.
3. Make their free throws
If this list is beginning to sound like a middle school summer basketball camp, it's because no matter the level, fundamentals win games. The importance of free throws cannot be stressed enough.
The Rockets were 13-22 in Game 7, and just 9-17 in Game 6. As their name implies, free throws are just free points as long as you convert your shot. Few things anger coaches more than looking at the box score after a narrow loss and seeing seven, eight, nine points left on the board as a result of missed shots at the charity stripe.
Points are at a premium against Golden State, and the Cavs have to get them any way they can.
2. Slow down the pace
LeBron James has played in 100 games so far this season, and after playing nearly the entire game twice in three days, he has to be completely gassed. At 33, he is still in peak physical condition, but the Cavs have to do whatever they can to keep him rested. One way head coach Tyronn Lue has done this is by calling timeouts right after the opposing coach does so that James can rest for four or five minutes in a row. This should continue, but the Cavs can do even more to not only keep James' stamina up, but also affect Golden State's play.
The Warriors score so many points because they play fast. Their team is young and filled with three-point shooters. As stated in previously, they thrive in transition. So, one thing that Cleveland can do is to slow down the pace of the game, similar to how they played the Warriors in 2014-2015.
Without Kyrie Irving or Kevin Love, the Cavaliers trotted out Matthew Dellavedova, J.R. Smith, Timofey Mozgov, and Richard Jefferson alongside James and played "bullyball", where they slowed the game down and focused on scoring inside. This approach allowed LeBron James to singlehandedly take two games from Golden State.
The more time the Cavs take on their possessions, the less time the Warriors will have for theirs, meaning fewer total shots are taking and fewer total shots made.
A lineup of George Hill,  LeBron James, Jeff Green, Kevin Love, and Tristan Thompson is perfect for this philosophy. This will also allow Love to be more effective; if he plays like he has during the Cavaliers' previous three Finals appearances, they will have no chance at winning.
Ball movement and rebounding will be key. Cleveland will lose some perimeter defense with this lineup and strategy, but if they can get two points nearly every time they have the ball, it will be worth the sacrifice.
They cannot do this all game, as they will need to play shooters like Smith and Kyle Korver to make some three-pointers, but especially in the third quarter, this change will be needed.
1. Limit damage in the third quarter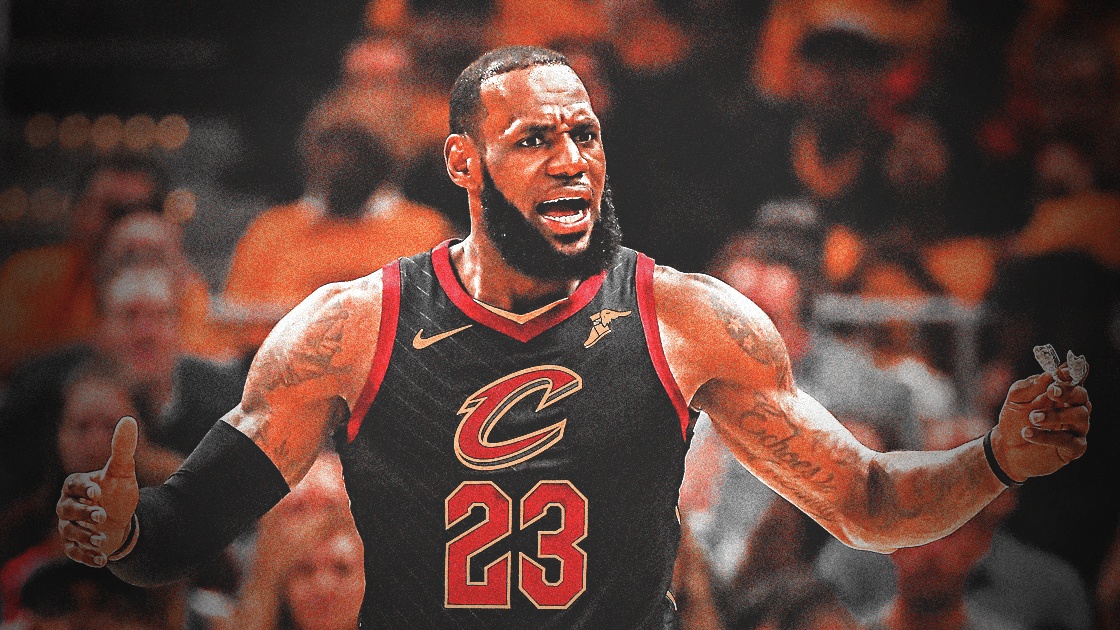 The Cavaliers' ability to follow this step will make or break their season. Cleveland is a terrible third quarter team, while Golden State wins games in the third period. Here are the third quarter scores in their previous series against Houston:
Game 1. GSW: 31 HOU: 24
Game 2. GSW: 29 HOU: 31
Game 3. GSW: 34 HOU 24
Game 4. GSW: 34 HOU: 17
Game 5. GSW: 27 HOU: 26
Game 6. GSW: 33 HOU: 16
Game 7: GSW: 33 HOU: 15
Houston's three wins came in Games 2, 4, and 5. They were able to evenly match the Warriors in Games 2 and 5, and their third quarter meltdown in Game 4 nearly cost them, but a 34-18 second and a 25-12 fourth allowed them to pull it out.
Golden State head coach Steve Kerr is a mastermind at making halftime adjustments and putting his team in the best position to go on a run. Tyronn Lue is just about the opposite, and Cleveland is one of the worst third quarter teams in the NBA. From the Cavs/Celtics series:
Game 1. CLE: 29 BOS: 17
Game 2. CLE: 22 BOS: 36
Game 3: CLE: 26 BOS: 22
Game 4. CLE: 31 BOS: 23
Game 5. CLE: 18 BOS: 23
Game 6. CLE: 29 BOS: 30
Game 7. CLE: 20 BOS: 13
Game 1 is the anomaly, as Boston destroyed Cleveland in every other quarter. Beyond that, the Cavs' best third period performance was in Game 7, when they slowed the pace down. They don't have to blitz the opposing team, and they don't even have to win the quarter. All they have to do is not get blown out. As long as the difference is under five points, their performance over the rest of the game, especially in the fourth, is usually good enough for them to win.
Now, Golden State is an entirely different animal from Boston, but that doesn't mean that the Cavs can't match them in the third quarter. As long as they adhere to the previous key, they can accomplish this one. Taking up more time on offense will also slow the momentum of the Warriors, which will be crucial to winning at Oracle.
The Cavaliers face an uphill battle for another NBA championship, but the blueprint to beating the Warriors has been laid out, and it's up to the players if they want to follow it or not. If they do, it will be an entertaining series and could end in a legendary upset.