6 Keys For The Cavs To Win The NBA Finals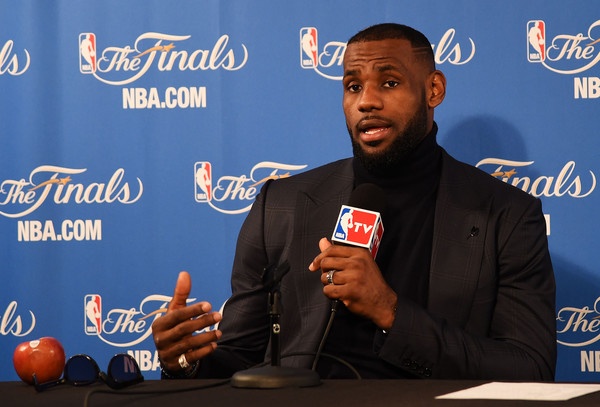 The Cleveland Cavaliers are taking on the Golden State Warriors in the NBA Finals, and although they dropped a tight Game 1 on the road, winning Game 2 will make up for that loss very easily. The big task at hand, however, is doing it without Kyrie Irving, who suffered a season ending fractured kneecap in Game 1. We look at at the broader, big-picture type keys for the Cavs to win the 2015 NBA Championship, starting with number six:
6. Stop the Shooters
Stephen Curry has clearly been the driving force behind the Warriors playoff run, averaging nearly 30 points per game as well as dishing out 6.4 apg, and grabbing, 5 boards per game. Fueling Steph's production is his ability to make space and knock down shots. Curry is shooting 46.1% from the field and 43.7% from downtown. He's averaging nearly 10 field goals a game, half of which are 3s. If the Cavs can stop Steph, they can stop the Warriors. While Delly may not be quick enough to guard Steph, Coach Blatt may need to matchup Iman Shumpert on Curry to equalize his speed. Steve Kerr and the Warriors will also most likely take advantage of the Cavs rusty screen defense. If the defense sags off Curry or gets stuck behind a screen, Steph will make them pay.
Here's Stephen Curry Shooting Chart:
And even if they stop Steph, they'll still have to worry about Klay Thompson. While Thompson is coming off a concussion in game 5 against the Rockets, his shooting is still deadly. Throughout the playoffs, Thompson is averaging 19.7 ppg on 45.9% shooting and is shooting 42.5% from beyond the arc. While Thompson isn't as good at creating space as Curry, he can knock down contested shots as well as play an inside game. While the Warrior's dual threat offense could bring a lot of trouble to the Cavs defense, if the Delly, Iman, and J.R. Smith can hold their own against the "Splash Brothers", they could give the Cavs the upper hand.
Here's Klay Thompson Shooting Chart:
You can find the fifth key to the Cavs winning a championship on the next page!