After a rocky 2-3 start to the season, the Cavs finish their first 2 weeks of basketball on very ambiguous terms. With questions of consistency and chemistry, the Cavs, while landing on their feet after winning their 5th game against Denver, have a lot of holes that three opponents have exploited thus far. The Cavs know their problems, but what are their solutions? How can the Cavs reboot the championship conversation? Here's Cavs Nation's best 5 ways the Cavs can get to championship-level basketball. Start the countdown at #5 on the next page!
Isaiah J. Downing-USA TODAY Sports
#5 Better Rotations
– Cleveland is 30th in bench minutes, and 29th in bench points.
– Mike Miller hit just his first 3 pointer of the season in the Cavs' fifth game.
– Shawn Marion is averaging a career low in minutes, and it's not even close.
– Dion Waiters:

Doug Pensinger/NBAE/Getty Images
#4 Spacing out in Transition
The Cavs are extremely dangerous in the open floor, but to become unstoppable, player need to avoid jamming the center of the court and give whoever is pushing the break options to deliver points:
DAVID ZALUBOWSKI — AP Photo
#3 Ball Movement
Cleveland is:
– 29th in assists per game
– 30th in backcourt assists per game
However, Cleveland is also 6th in frontcourt assists per game. Cleveland's backcourt, specifically Irving, still needs to adjust to a facilitator role. The first four games lacked this dearly, but game five showed promise:
Getty Images
#2 Distribute Scoring
While uniform scoring might sound like an unrealistic scheme, it is flexible. Having a distributive mentality is how the Cavs can endure when their stars go cold or if the team is just being overwhelmed. A balanced attack will put forth the best overall team effort each night.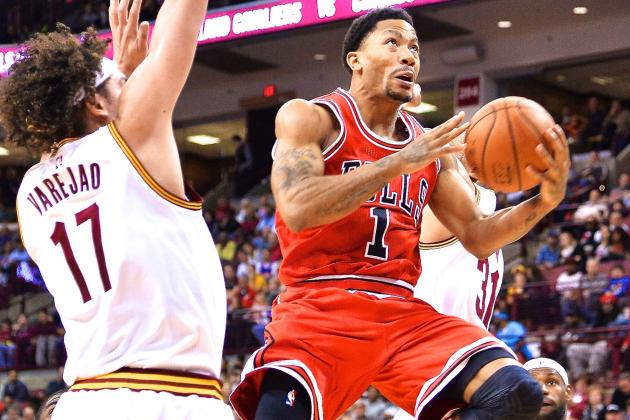 Getty Images
#1 Interior Defense
Actually, with as bad as this was expected to be, the Cavs aren't doing a completely awful job with it. Cleveland is:
– 17th in Opponent Points-in-the-Paint
– 21st in Opponent FG% in the paint
They're still awful however. But middle of the pact is still better than rock bottom.
Kevin Love, however, still seems disinterested in contesting shots. I'm seeing this all the time:
In addition, LeBron and other prime defenders on the team need to lead by example. The first four games of the season featured plenty of defensive breakdowns and poor body language; the fifth has a step up from that: