Cavs Nation's Matt Thomas
When you're one of the leagues elite teams, there will always be reporters and talk shows chatting about improvements that could be made, and recently our own Cleveland Cavaliers have been a huge talking point. It's been known for a long time that the Cavs are in the market for a rim protector, the only piece holding back this team from being one of the league's best.
Let's see what options in the league the Cavs can bargain for and possibly make a deal with by the trade deadline early next year.
Continue to the first trade target on the next page!


Doug Pensinger/Getty Images North AMERICA
#3. C Timofey Mozgov – Denver Nuggets
Trade Proposal: Dion Waiters and 2015 first-round pick (via Memphis) for Timofey Mozgov
The Nuggets have a logjam at the C position, and the Cavs need a center. The Cavs have made it clear that Mozgov is right at the top of their wish-list, and should do what it takes to acquire the 7ft1 Russian.
Mozgov has started the majority of games for the Nuggets, but they also have Javale McGee and former Cavalier, JJ Hickson, who can play center position. Denver may be more inclined to deal Javale McGee due to him earning a heavier contract, but the Cavs simply don't have the contracts to give up. Unless they'd give up Waiters, Thompson, Haywood and a first rounder for McGee, there aren't many other options.
Mozgov would definitely be enough to give up Waiters and a pick though. He averages 1.7 blocks per 36 minutes, and with the added minutes he'd earn in Cleveland's rotation, there's a very solid chance he increases that to 3 or 4 a night. Perhaps he can have another career game for the Cavs:
Continue to the second trade target on the next page!
#2. PF/C John Henson – Milwaukee Bucks
Trade Proposal: Dion Waiters, Lou Amundson and 2015 first-round pick (via Memphis) for John Henson and Jared Dudley
The Bucks have the same issue as Denver, too many guys play the same position. Milwaukee has 7 guys who can play the power forward or center position, as well as the 'Greek Freak', who seems to be able to play any position there is.
The 14th overall pick from the 2012 NBA Draft has never played the minutes he's deserved in Milwaukee. After finally looking like he'd see what he deserved last season, he averaged 26.5 minutes a nigh. Enter Jason Kidd and Jabari Parker, Henson to this point in the season is averaging just 12.2 minutes per game.
That's where David Griffin comes in. The Cavs can offer Henson starters minutes. Standing at 6'11, Henson averages 3.3 blocks per 36 minutes and a solid rebounder at 8.9 per 36 minutes. To make that sound even sweeter, he's 23 years old and still very much a prospect. Get him starter minutes, and feed the kid four steaks, daily, and the Cavs have a solid defensive threat in the middle.
Continue to the third trade target on the next page!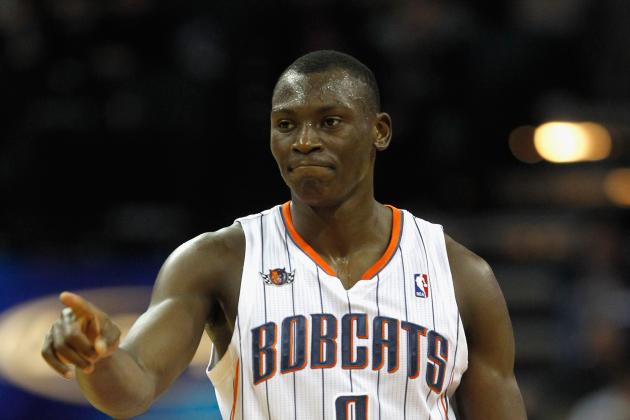 Streeter Lecka/Getty Images
#1. C Bismack Biyombo – Charlotte Hornets
Trade Proposal: Trade Exception and 2015 first-round pick (via Memphis) for Bismack Biyombo
Bismack Biyombo was drafted 7th overall in the 2011 NBA Draft, and there has to be some reason he was drafted only six picks behind Kyrie Irving, and two behind Tristan Thompson.
Biyombo is so buried in Charlotte's rotation its not funny anymore. He's the fourth string power forward, and somehow managed to bury himself behind Jason Maxiell. With Noah Vonleh's progression, he'll only find himself buried behind more minutes.
Biyombo's whole game revolves around him blocking and changing shots on the defensive end. The Cavs could be the perfect fit for Biyombo, with so much offensive firepower; his lack of offensive skills won't be a factor. Catch and finish lobs to the rim from Kyrie and LeBron and he'd make plenty of friends. In his 52 total minutes played in the 2014-15 season, he's pulled down 22 rebounds, which is 15.2 rebounds in 36 minutes.
Trading for him should actually be quite simple. He's headed for restricted free agency alongside Al Jefferson and Cody Zeller, and as previously mentioned, Noah Vonleh will come good in time, so his long term future is most likely with a different NBA franchise. It would make sense for the Hornets to want to get something for him, rather than just watching him walk. And this one definitely wont cost the Cavs Dion Waiters either, so it's a great opportunity for Griffin to explore.
How's this for rim protection?