The Cleveland Cavaliers finished the preseason with a 2-2 record. While there were some promising signs for the Wine and Gold, there were some concerning trends as well.
As a team striving to reach the playoffs in their first year after LeBron James left for the Los Angeles Lakers, there will be a smaller margin for error than any time during James' second stint in Cleveland despite there no longer being championship-or-bust expectations. The Cavaliers aren't the least talented team in the Eastern Conference, but they're far from a shoo-in to reach the postseason.
They'll need to put on their hard hats this season and prepare to make an all-out playoff push that requires more far more effort in the regular season than they've given in previous years. Within their "Be the Fight" slogan is the simple truth that they'll indeed have to scratch and claw their way through the regular season, especially to regain their respect.
There are three primary areas of concern the Cavaliers need to address if they want to be successful in their mission and reach the playoffs.
1. 3-point efficiency
While many will point to the Cavaliers only taking 24.3 3-point attempts per game in the preseason, a far cry from the 32.1 3-point shots per contest they took in the 2018-19 regular season, a more concerning issue for Cleveland is the inefficiency with the 3-ball.
One of the main reasons the Cavaliers' volume of 3-pointers from the preseason doesn't come close to what they averaged last season is Love only played one game. His replacement in the starting lineup, Sam Dekker, took 3.6 3-point attempts per 36 minutes in the preseason.
Love only took 6.2 3-point attempts per 36 minutes in the preseason opener; he averaged 7.2 3-point attempts per 36 minutes last year. It's safe to say that as the team's primary scoring option, Love should be able to at least get up that many 3-point attempts — about twice as many as Dekker averaged per 36 minutes. Particularly because Love, who has been on the floor for an average of 31.3 minutes per game in his Cleveland tenure, will see a minutes increase without James in town.
That said, in the preseason, the Cavaliers shot 34.0 percent from 3-point range.
Only three rotation players (who had at least five total 3-point attempts) made more than 35.0 percent of their 3-point attempts: George Hill (36.4 percent), Collin Sexton (57.1 percent) and Kyle Korver (41.7 percent).
Last season, there were eight Cavaliers who made at least 35.0 percent of their long-range bombs.
While Hill (career 3-point percentage of 38.3) and Korver (career 3-point percentage of 43.1) have proven they're 3-point specialists over the course of their career, it's hard to believe Sexton will maintain his efficiency from deep over the course of an 82-game season.
Sexton has put a lot of work into adjusting his jump shot since being drafted out of the University of Alabama, so his long-range efficiency may not be a fluke. However, the chance Sexton will have jumped from a player who shot 33.6 percent from 3 in college and 23.1 percent in Summer League to a player shooting above 40.0 percent in the regular season is slim.
Love, Rodney Hood and Cedi Osman are the most notable exclusions on this list.
Love did make 66.7 percent of his treys in the preseason, but it was a total of three attempts, which isn't significant. However, Love made 41.5 percent of his triples last season and 37.7 percent since joining the Cavaliers, so it's safe to say he'll be one of the team's better shooters from outside.
Hood only made 27.3 percent of his 3-point attempts in the preseason. After knocking down what would have been a career-low 35.2 percent as a Cav last year and 16.7 percent in the playoffs, his inefficiency from deep is more concerning than Love's. But having made 36.9 percent of his 3s in his career, the expectation should be for Hood's efficiency from deep to improve.
After making 36.8 percent of his 3-point attempts as a rookie and altering his shooting form to mirror Korver's, Osman's inefficiency from outside is perhaps the biggest concern. He only made 30.0 percent of his treys in the preseason after making just 21.4 percent in the Summer League. In fact, this summer he was only efficient from behind the arc in FIBA competition with their shorter 3-point line.
Will the Cavaliers be able to replicate their 37.2 percent 3-point efficiency from the 2017-18 season?
2. Kevin Love's durability
Kevin Love is the face of the franchise after Kyrie Irving requested a trade in the 2017 offseason and LeBron left to join the Lakers over the summer. However, while Love will be the team's feature player, he won't be the picture of durability James was in his time as team MVP.
Love played fewer than 60 games for the third time of his career last season, and he only played in one of the Cavaliers' four preseason games as he nursed a sore left foot.
That's not a promising sign for a player who has shown a tendency to get knocked out of the lineup with freak accidents like the one that caused him to break his left hand in January and miss two months worth of action, or dislocate his shoulder in 2015 and miss the rest of the playoffs.
In 2009, he broke a bone in his left hand and only played 60 games in the 2009-10 season. In 2013, he broke two bones in his shooting hand and played a career-low 18 games. In 2017, he had surgery performed on his left knee and played 60 games in the 2016-17 season.
Love also tore a ligament in his left thumb during last season's playoffs, though he didn't miss any time.
With an increased workload and opposing teams knowing that playing physical against Love is the best way to get him out of his game, there's even more opportunity for the big man to be bit by the injury bug. As talented as the five-time All-Star is, he's not a player who avoids major injuries. In fact, he seems to attract them.
When Love is out, Rodney Hood will be looked at as the team's primary option. While scoring isn't going to be an issue for the shooting guard (effiency will be, however), the concern will be the contributions that they get from their other players.
Will Cedi Osman put up voluminous numbers? Will George Hill, who can be passive to a fault, ramp up his scoring? Will rookie Collin Sexton rise to the challenge? Will Jordan Clarkson show evolution as a playmaker?
Those are the questions the Cavs will need an answer to and likely will get a chance to answer, given Love's injury history.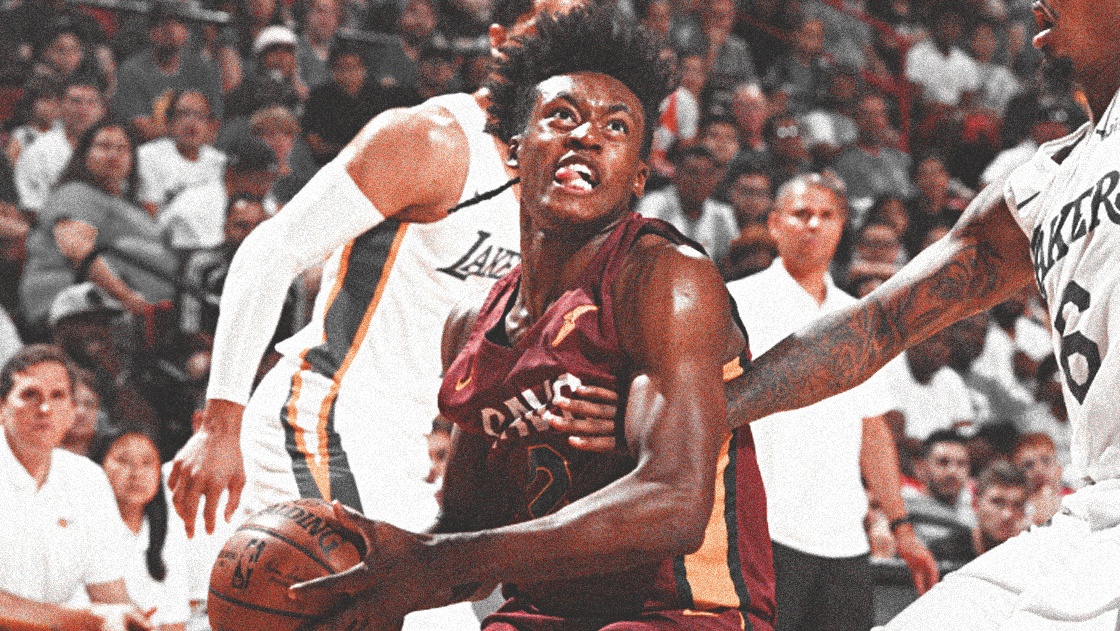 3. Open-court play
Perhaps the biggest area where LeBron will be missed this season is in the open court, as the Cavaliers don't have another player who can dominate fast breaks the way he can.
Nobody possesses the physical prowess or finishing ability of James, and the greatest evidence of that is seen in Cleveland averaging 8.8 fast-break points per game in the preseason. Only the Minnesota Timberwolves (8.0) and Brooklyn Nets (6.3)were worse.
The Cavaliers averaged 12.5 fast-break points per game last season and James averaged 4.2 fast-break points per game. There seems to be a direct correlation between the Cavaliers' paltry fast-break numbers in the preseason and James' absence.
This season, Cleveland's two biggest threats in transition could be Cedi Osman and Collin Sexton. While Osman's size and ability to finish around the rim in transition is solid, Sexton's speed and attacking mentality are what will allow him to be the biggest threat in transition.
If Sexton continues to perfect his pull-up jumper, he could be even more dangerous on the break. There are few players who have the length and athletic ability necessary to stop on a dime and close out on a shooter who can knock down pull-up jumpers in transition. When a player does close out on Sexton, there's a high chance he can find a teammate inside with a drop or pocket pass.
In the preseason, Osman averaged 3.2 fast-break points per 36 minutes (a team high among players who played more than one game), while Sexton averaged 0.8 fast-break points per 36 minutes. Sexton's low average is a consequence of his inability to convert consistently around the rim in preseason action.
Interestingly, shooting guard David Nwaba — a player Cavs head coach Ty Lue wants in the team's rotation — averaged 3.1 fast-break points per 36 minutes. A strong, athletic and aggressive player when he attacks the rim, Nwaba could be one of Cleveland's secret weapons in the open court this season.
*All stats gathered from NBA Advanced Stats and Basketball-Reference.