David Richard-USA TODAY Sports
On the court, Kevin Love's identity is ubiquitous. A double-double machine with underestimated IQ, a quarter back in the transition game, and a defender's nightmare with his shooting range, Kevin Love is known for a lot of things in the NBA; but in regards to his overall career and life, do people really know Kevin Love? Cavs Nation investigated the matter and discovered 10 things that you might not already know about Kevin Love off or on the court. Start the countdown, click next!
Pepsi Max Ad
#10: His Middle Name is Wesley

You know him from his appearance on Kyrie's Pepsi Max commercial as Uncle Wes, but the name stems from more than an alter ego. A family friend of Love's is NBA legend, Wes Unseld. Unseld had incredibly decorated NBA and college careers, inspiring his relatives Karen and Stan Love to honor Unseld by naming their second son, Kevin Wesley Love. Kevin spent a lot of his early life in awe of Unseld and would study tapes for hours with his father, Stan.
Like Uncle Wes like Uncle Wes, it's all about the buckets:
Beach Boys
#9: Uncle Mike is a Founding Member of the "Beach Boys"

Speaking of uncles, Mike Love, brother of Kevin's father Stan, is a founding member of the Beach Boys. He actually wrote 'California Girls'. A further three members of the Beach Boys are relatives of Kevin's. Brian, Carl and Dennis Wilson are all cousins of Mike and Stan Love.
Ron Smith Triathletes of the Year: Kathleen McCartney Hearst (Far Right), Julie Moss and Jordan Rapp
#8: Kevin's Aunts get as much Love as his Uncles
Love's Aunt, Kathleen McCartney Hearst, is a hugely respected and accomplished triathlete. Hearst won the Ironman World Championship in New York in 1982.
Kevin Love 'Guarding' Cody Martin (Cole Sprouse)
#7: Made an Appearance on Suite Life On Deck

Love has made a few TV appearances. Alongside Eminem, Love featured on an episode of Entourage, and alongside Deron Williams and Dwight Howard, Love made an appearance on an episode of the Disney Channel's 'The Suite Life on Deck.'
Kevin Love in High School
#6: Wanted to be a Multi Sport Athlete in High School
Love is said to be a very talented athlete, but not just in basketball. In high school, Kevin desired to take up baseball and football on top of basketball. Kevin wanted to be a quarterback, and was also said to have a decent pitching arm.
Love's parents, Karen and Stan, said no, and wanted Kevin to focus on his basketball. For that Mr. and Mrs. Love, Cavs Nation and all of Cleveland would like to thank you. They made a good choice from early on: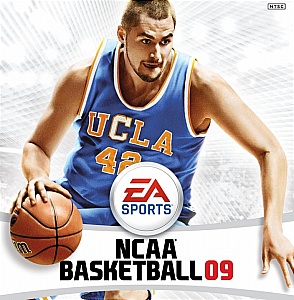 #5: Featured on Cover of NCAA BASKETBALL 2009

Love was simply awesome in college. So awesome that his 17.5 ppg, 10.6 rpg, and 23 double doubles, and Pac-10 Player of the Year award earned him the cover of EA Sports NCAA Basketball 2009.
He even made a cover before going to college:
Trey Kerby
#4: Dating Actress Cody Horn

Cody Horn is also a Los Angeles native, and got her modeling career started for Ralph Lauren, before moving on to TV and movies. She's known for her roles in The Office, Magic Mike and End of Watch.
#3: Shoe Deal with '361 DEGREES'

Nike? Adidas? Reebok? AND1? Peak? Notta. Kevin Love is three years into a six year shoe deal with Chinese company 361 Degrees. 361 Degrees is a major sponsor to many Chinese athletes, ranging from swimming, track and field, field hockey, cycling and basketball. Kevin Love and Stephon Marbury are the big name basketball players to be sponsored by the up and coming sports brand. Frank Victores-US PRESSWIRE
#2: Wore a Retired Number at UCLA

When Love verbally committed to play his college basketball at UCLA, he got the permission of Walt Hazzard to wear his retired #42 jersey. During his time at UCLA, Kevin regularly sought out guidance from Bruins legends Bill Walton and John Wooden.
Kevin and Dylan
#1: Kevin Love had a Special Bond with a Cancer Patient

Love once kept a picture of Dylan Witschen in his Timberwolves locker, and would write #7, Dylan's football jersey number, on his sneakers before every game.
Dylan was a football player at Anoka High School, after enduring a few big hits Dylan thought he had recurring concussions. When further tests were taken, a tumour the size of a golf ball was found in Dylan's brain. It was operated on successfully, and Dylan was told there was an 85% chance that his cancer would be cured.
For six months, Dylan seemed cancer free, before his arm went numb and further tests were taken. The cancer was back, and it was inoperable. Dylan was given three to six months to live.
Kevin and Dylan had a tight bond, more than a few text messages here and there. Kevin would invite Dylan and his family to Wolves games and even into the locker rooms after games. They became very close friends, very quickly. A testament to that was a night after a big game for Love, Dylan and Kevin were fooling around in the locker room before Dylan looked him in the eye and offered him these words of wisdom, "you should have had more".
Although we know Kevin Love averages 19.2 ppg and 12.2 rpg, there's still plenty of surprises we will come to know as Kevin Love assimilates himself into the Cleveland community. Welcome home, KLove!