David Richard-USA TODAY Sports
Thanksgiving is that time of the year. It's not the controversial time when we can speculate and stress about the Cavaliers after just a few games over turkey; nor is it the layover time when we just wait for Christmas to open presents and see LeBron's return to Miami. As accurate as these definitions may seem, Thanksgiving is a time of thought and appreciation, and Cavs Nation brings you 10 things all Cavs fans should be thankful for this year. While most fans are thankful for family and friends, all of Cavs Nation is thankful for Cavaliers basketball. Start the list on the next page!
@Cavs
#1 Our Team Cares About Its Community
From Thanksgiving feasts for the homeless to education for the underprivileged, the Cavaliers transcend philanthropy with their own version of "NBA Cares." Since the summer frenzy, Cleveland's love for basketball and its economy aren't the only trending topics; rather, the communal "All for One, One for All" philosophy that holds and drives this team has evangelically spread to passionate Cavs fans. We should be thankful that our team cares about us as much as we care about the Cavs!
#IPromise
Click here to see Kyrie Irving, Dion Waiters, Kevin Love, Anderson Varejao and other Cavaliers serve a Thanksgiving Feast for community members in need!
Continue to the next page!
Lisa DeJong, The Plain Dealer
#2 Our Team, Period.
When LeBron made his decision to return home, Cavs Nation shed a tear. After signing Kevin Love and a third of the Miami Heat, we were bawling uncontrollably with joy. It is nearly inconceivable to imagine any better path LeBron, the Cavs or Cleveland could've taken in the past year; and just knowing that everyone ended up on the same path is truly remarkable. With the bumpy 7-7 start to the season, it's been difficult to stay patient, but what's more important than anything is being thankful for at least having this team to struggle with. Cavs fans honestly wouldn't want it any other way.
Continue to the next page!
AP
#3 Cavaliers Franchise Leaders, Specifically Owner Dan Gilbert & GM David Griffin
If you thought the last 4 years were tough for Cavs fans, it was even harder on these guys who stood with the team through every minor victory and larger tragedy until they too felt bliss with the return of the King. However, LeBron's return and the Cavalier's reestablishment in Cleveland was more than salvation for these individuals; it was a reward for all their hard work. Dan Gilbert made it a personal mission to repair his relationship with LeBron, and that played a major part in his return knowing he would be welcome. The dedication of the entire administration, but specifically the passion of GM David Griffin, is how Cleveland is able to finally provide LeBron with the team he needs to win a championship. This group of leaders is continuously looking to improve this team in order to better the franchise for the city and its fans. Griffin, even after the most successful free agency summer in Cavalier history, is still looking to make additions to the roster:
"No one is untouchable, and you're never done building a team, so we're always paying attention to what opportunities are out there. My tendency is always trying to do what we can do to improve the roster."
Having an administration that tirelessly and continuously looks to revamp their squad is probably the most unappreciated commodity Cavs fans have. Thanks to the entire Cleveland Cavaliers franchise.
Continue to the next page!
Michael Allen Blair, News Herald
#4 The New, Incredible Quicken Loans Arena
This year, everything about the Cavaliers is beautiful. The new roster, inspiring leaders, passionate fans – Cleveland is now one of the biggest basketball cities in the world! Consequently, a new home court was due. The 'Q' is home to a dazzling LED skyline, the biggest HD screen in all of sports, a 3D court projector and a court that screams pride. Attending a game is one of the best experiences you can get in Cleveland and in sports. Energetic, beautiful and simply epic.
Continue to the next page!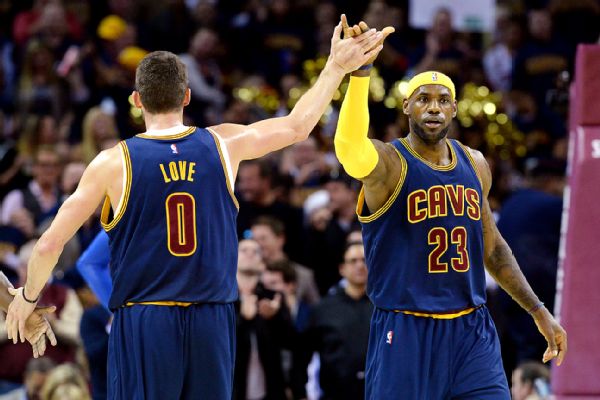 #5 Kevin Love's QB Arm
Transition basketball is the most exciting basketball, and with Irving and James leading those fast breaks, having on-point outlet passes gives defenders a chase they can't reach. Kevin Love just gives defensive coaches headaches with his ability to make the right decisions, and the right plays. Not much to say, just a lot to see and a lot to be thankful for:
Continue to the next page!
#6 How Far Kyrie Irving Has Come
Arguably with the hardest adjustments on his agenda, Kyrie Irving has had to absorb and accept changes in the system that's made the greatest impression on his young career. As a result, he's received ample criticism and even more questions about his true Point Guard abilities. However, none of this has stopped Irving. After a heartbreaking loss to the Utah Jazz earlier in the season where Irving didn't dish a single assist, the third member of the Cavs' Big Three ran the Cavs' offense into a 4-game winning streak while dishing over 6 assists per game in that stretch. His dedication and progress towards becoming a true Point Guard is a sign of relief and a reason to be thankful.
Continue to the next page!
#7 LeBron, Re-established.
From his decisive letter, to this year's Wine & Gold Scrimmage, there were a lot of "New Beginnings" for LeBron. However, his second tenure in Cleveland wasn't initiated until his first, amazing basket as a Cavalier once again:
After this and-1, 20,000 fans rose to their feet while the sports world and social media exploded. For the first time, LeBron's return was more than a sentiment, it was real. Cavs Nation will always be thankful for this moment.
Continue to the next page!
RECOMMENDED
Joshua Gunter, The Plain Dealer
#8 The Rise of Role Players!
Outside of Cleveland's Big Three, the players surrounding and supplementing our Cavalier superstars have found their place relatively soon – which is a huge relief! In his time in Miami, LeBron realized the importance of a complete team through painful loses and surreal victories. Role players who understand their roles, a novel concept that deserve thanks from Cavs fans. Whether its rookie Joe Harris playing critical, game-deciding minutes or Shawn Marion assimilating himself into the starting lineup with his tenacious, lock-down defense, the development of role players will be required in order to win. Down the road of a long season and into the playoffs, players will need to pull out everything from within themselves to contribute; discovering what they can pull out needs to be determined early. Thankfully, our role players have made great progress to find themselves.
Continue to the next page!
Jason Miller, Getty Images
#9 The Cavs .500 Start to the Season
Hold your turkey and whatever else you'd like to throw at me for this. While the 7-7 start has been uneasy, it is in no way an accurate indication of the Cavs progress. Landing on a 7-7 record, with all that the Cavaliers have struggled with fundamentally thus far in the season, is remarkable. As LeBron James said earlier this week:
"This is not even the lowest it's going to get for us," James said. "You guys know, the lowest it can get is up 17 in the fourth quarter of Game 2 of the Finals and losing. It can get that low. Or being up 2-1 and going to Game 4 and lose three straight in the Finals. That's very low. So, I'm very optimistic. I'm very positive. More positive than I thought I would be right now, so, we look at what we did wrong, things that we did well and get ready…"
Things can be a lot worst, so losing 7 now can help the Cavs avoid 7+ in the future. Be positive, be thankful, and "RELAX."
Continue to the Next Page!
NBAE Getty Images
#10 The Tough Lessons of Losing
Struggling is more than just losing to eventually succeed; it's learning that changes a team and streamlines them to success. In those 7 losses, the Cavs have learned well more than 7 things they struggle with as individuals and as a team. Players who are struggling to score know what shooting drills they need to practice. Scorers who stumble on defense know what film they need to go over. Leaders who have shown a lapse in character know how they must inspire their teammates by example. Everyone wants to play well, but understanding that playing well together is infinitely more important. In the first 14 games, the Cavs wanted to win but not everyone was quite prepared to earn it. Without a doubt, the Cavaliers themselves are just as thankful as Cavs fans for these lessons.